Labour urging Ivory Coast aid push as crisis worsens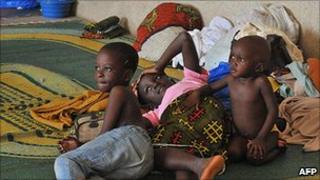 Labour has warned the humanitarian situation in Ivory Coast is becoming "desperate" amid violence sparked by its disputed presidential election.
They have urged ministers to step up international efforts to get aid to the thousands of people displaced and forced to flee to neighbouring Liberia.
The UN has called for an immediate end to violence in the West African state.
Ministers said aid - including £8m provided by the UK - had reached only a "small" number of those affected.
Incumbent leader Laurent Gbagbo has refused to step down in favour of Alassane Ouattara, whom the UN, US and the EU recognise as the clear winner of November's election.
'Deteriorating'
Mr Gbagbo continues to cling to power in the main city Abidjan and, according to the UN, at least 473 people have been killed and a million displaced since fighting began in December.
Shadow international development minister Mark Lazarowicz told MPs the situation in Ivory Coast was "clearly becoming more desperate by the day" and was spilling over into neighbouring states, particularly Liberia.
He welcomed the £16m in humanitarian aid the UK has pledged for Ivory Coast and Liberia but said UN emergency appeals to help the two countries were "grossly underfunded".
In view of the "deteriorating situation", he pressed ministers to clarify how much of the aid had reached the countries and what efforts were being made to get access to the most remote parts of the country where thousands of people are reported to be trapped.
International development minister Stephen O'Brien said aid agencies had been able to reach the north and west of the country but their response was "only reaching a small part of those affected and displaced by the conflict".
The level of humanitarian assistance required had "increased significantly", he added, and the UN was appealing for fresh funds to deal with the crisis.
He urged both sides to allow Mr Ouattara to assume power by "the most peaceful means".