Profile: Elliot Morley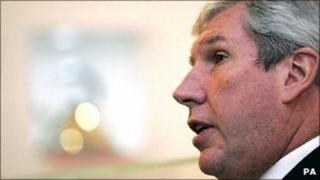 Former Labour MP Elliot Morley has been sentenced to 16 months in prison, having admitted dishonestly claiming more than £30,000 in Parliamentary expenses - a scandal that ended his career.
Of the four former MPs charged with criminal offences over their expenses, Morley was accused of claiming the most.
Initially it was the £16,000 claims for a "phantom mortgage" - so called as it had been paid off - that were reported on 13 May 2009, shortly after the expenses scandal broke.
The following day, then Labour leader and prime minister Gordon Brown announced, very publicly at the start of a launch event for Labour's European election campaign, that Morley had been suspended from the Labour Party in light of "serious" allegations against him.
Within a month the party's disciplinary panel, dubbed the "star chamber", had barred him from standing for Labour again.
The allegations had effectively ended Morley's political career nine months before the Crown Prosecution Service decided to charge him with two false accounting offences - amounting to dishonestly claiming £30,428 in second home expenses.
Great survivor
It was an unwelcome career turn for a man who had been respected across the political divide for his straight-talking manner, commitment to the environment and understanding of animal welfare issues.
The softly-spoken Liverpudlian, 58, who is married with two children, had steadfastly maintained a modest public profile and was known as an unassuming MP whose chief passion since childhood had been birdwatching.
Until his ministerial career came to an end in the 2006 reshuffle, he was one of the great survivors of the Labour government.
Up to that point, he had kept a job in the same department since the party's election victory in 1997 when he joined the old Ministry of Agriculture, Fisheries and Food - later absorbed into the Department for Environment, Food and Rural Affairs.
As Minister for Fisheries and the Countryside, he had to handle such political hot potatoes as foxhunting, EU fishing quotas and the 2001 foot-and-mouth outbreak.
His commitment to green issues saw him promoted to minister for the environment in 2003, during which time he helped start the government's anti-coastal erosion programme and its decontamination service.
He also implemented restrictions on fur farming for which he had argued for while in opposition.
In 2005 he was named climate change minister - according to Mr Morley himself, the world's first - and was praised by the Independent newspaper as having "the most impressive green credentials of any Labour minister".
It was the pinnacle of a career that began when Mr Morley was first elected to Parliament in 1987, winning Glanford and Scunthorpe from the Conservatives in one of only 10 Labour gains in England that year.
The teacher's initial majority of just 512 was built up at subsequent elections through hard work in the area, and by 1989 he had been invited to join Labour's front bench as spokesman on food, agriculture and rural affairs.
'Sloppy accounting'
After leaving government, the former council member of the Royal Society for the Protection of Birds must have thought his status was secure as a respected authority on the environment and animal welfare - not least when he became chairman of the Energy and Climate Change Committee in January 2009.
However after the "phantom mortgage" story broke he became better known for his part in a scandal that engulfed Parliament.
Morley insisted that he had not committed an offence, although he admitted he "should have kept a tighter rein" on his expenses. He blamed "sloppy accounting" and told the BBC he repaid the money two weeks before the revelation, upon realising he had mistakenly continued claiming after his mortgage was repaid in 2006.
But on 5 February 2010 - nine months after the allegations emerged and following a police investigation - the Crown Prosecution Service announced he would be face two charges of dishonestly claiming mortgage expenses. The first related to £14,428 of claims made for mortgage interest between April 2004 and February 2006 on his constituency home in Winterton, Lincolnshire.
The second related to the £16,000 claimed for mortgage interest between March 2006 and November 2007, after the mortgage had ended.
Alongside his former colleagues charged over their expenses, he attempted to get the case thrown out and referred to Parliament instead, arguing at the High Court, Court of Appeal and Supreme Court that MPs were protected by Parliamentary privilege.
When that failed and trial dates were set, he was due to be the first to face trial in November - but it was postponed and in the meantime two of his former colleagues also facing charges, David Chaytor and Eric Illsley, had changed their pleas to guilty and received jail sentences. Two others who have stood trial - former Labour MP Jim Devine and former Tory peer Lord Taylor - were both found guilty.