Vince Cable hints at tax rise for 'high value' homes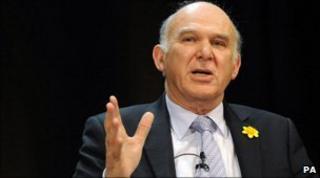 Business Secretary Vince Cable has said tax on high value properties may have to rise - if the 50p tax rate is axed.
He told BBC Radio 5 live any change must be "fair overall".
Nick Clegg told the Financial Times it would not be a return to the Lib Dem "mansion tax" policy but could include looking at council tax or stamp duty.
Chancellor George Osborne said in the Budget that the 50p rate would be temporary but the government would look at tax on "very high value" properties.
Mr Osborne said high personal tax rates "crush enterprise, undermine aspiration and often undermine tax revenues as people avoid them".
Mr Cable said he agreed with the chancellor that the government had to move away from "extremely high rates of tax on income" if it turned out to be "counter-productive", but at a time when people were suffering hardship that tax had a "political purpose".
He told BBC Radio 5's Pienaar's Politics he agreed eventually they would have to move away from the higher rate.
But he added: "It needs to be a change which is fair overall and does take account of the fact that the wealthy have got to pay their share, and the emphasis may well have to shift from high marginal rates of tax on income which are undesirable, to taxation of wealth, including property, and the chancellor said that, as much as that, in his Budget."
There was a "strong argument" for having a "proper base for taxing property", he said.
"I'm sure that's one of the things we're going to have to look at as we change away from these very high marginal rates."
In the Budget, Chancellor George Osborne said he agreed with his Labour predecessor Alistair Darling, who introduced the 50p tax rate, that it should be temporary - but now was not the right time to remove it.
He said he had asked HM Revenue and Customs to look at how much it was actually raising, but said the wealthiest should pay more and the government would be "redoubling our efforts to find ways of ensuring that owners of high value property cannot avoid paying their fair share".
A Treasury spokesman said the chancellor had been referring specifically to tax avoidance and evasion, and not to new ways of taxing property.
In 2009 while in opposition, Mr Cable conceded that he should have consulted more widely in his party after his "mansion tax" proposal for a 0.5% charge on properties worth more than £1m prompted criticism from some fellow Lib Dem MPs.
The party later raised the threshold to £2m, a policy which was in the Lib Dem manifesto last year.
Asked on Monday about Mr Cable's comments, the Prime Minister's official spokesman said: "Tax is a matter for the chancellor and he makes statements about tax in the Budget. There was one of those last week,"