Ed Miliband advised by brother over Libya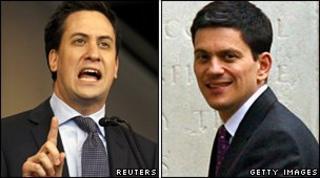 Labour leader Ed Miliband has praised his brother's "huge expertise" on foreign affairs, and said he helped him on his Libya speech.
Former Foreign Secretary David Miliband returned to the back benches after being pipped to the leadership by his younger brother last year.
He has kept a low profile since then, with occasional speeches in Parliament.
Ed Miliband told the BBC his brother had provided him with "a lot of help and advice" on Libya.
The Labour leader told BBC Radio 5 live's John Pienaar: "I sent him my speech on Libya for the House of Commons in advance and he made important points and I made a number of changes to it.
"On Libya it is something we have talked about a number of times because he brings huge expertise to this issue, and indeed the wider situation in North Africa. He's too big an asset to lose and I'm certainly drawing on his advice."
David Miliband was foreign secretary in the previous Labour government and was the favourite to take over as party leader from Gordon Brown, who stepped down after Labour lost power in the general election.
But although he won a higher percentage of votes from Labour MPs, MEPs and party members in Labour's leadership contest in September, his brother's success with trade union members and affiliated societies pushed him into first place.
He returned to the backbenches and recently told BBC One's Andrew Marr programme that life does not always go to plan and "sometimes it hurts" - but he did not rule out a possible future return to Labour's front bench, saying he was taking it "one Parliament at a time".
Ed Miliband said: "I make no secret of the fact that I have said, I would have preferred to have him in the shadow cabinet but, you know, he's made the right decision for him. It's a decision he's made for now. You know, we'll see what the future holds."