Budget 2011: Assessing the package's political impact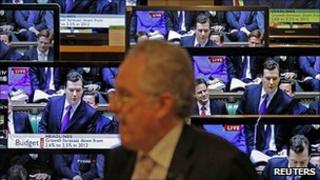 The day before Wednesday's Budget, the shadow chancellor Ed Balls flourished a document in Parliament.
It was, he said, a copy of the government's growth strategy. He said he wasn't going to give it to any journalists as there was nothing in it worth leaking.
The Budget though, was full of announcements which ministers claim will drive the engine of growth in future: the 1% cut in corporation tax (on top of the 1% cut already announced), increases in bank credit to small firms, 40,000 apprenticeships, funding for 100,000 work experience places, and so on.
All measures, the chancellor said, to make Britain the best place in Europe to do business.
In his third big set-piece economic speech to Parliament, George Osborne had limited room for manoeuvre after the tax and spending changes he set out in the autumn spending review.
Changing perceptions
But the government will hope that these measures will change the focus of the public's perception - that this is not a government which simply cuts spending, but is one that understands the pressures households are facing and is determined to repair a damaged economy.
The Lib Dems will be pleased with the announcement lifting the tax threshold to £8,000.
They will also like the setting up of the Green Investment Bank, to start in 2012 and funded by an extra £2bn from asset sales and underwritten by the Treasury.
But does it all add up to enough to persuade some restive rank-and-file members that it was worth joining the coalition?
The big announcement was the one on fuel duty and the one that the government hopes most people remember as they try and digest the complexities of the Budget.
Labour had wanted Mr Osborne to reverse VAT on fuel. That would take six years, the chancellor said.
Instead, there'll be an immediate cut in fuel duty and a new "fair fuel stabiliser", paid for by the oil companies.
Interestingly, Business Secretary Vince Cable said hours before the Budget that there were "real technical difficulties" with such proposals. Does he still have his doubts?
There was less surprise about the predictions for the economy. Borrowing will be slightly less in 2011 but the forecast for growth - which the Budget is designed to promote - has been downgraded for this year.
And so the political debate remains the same.
The coalition claim that in spite of the fragility of the economy they have a plan for growth, jobs and prosperity.
But Labour will continue to claim the cuts programme is damaging the economy.