Scottish election: Holyrood parties react to UK Budget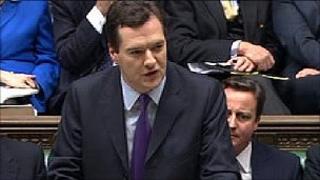 More than two million Scots will see their income tax cut as a result of the budget, the UK government has said.
Fuel duty has also been cut, in a move to be funded by taking £2bn from the profits of North Sea oil producers.
The Scottish Tories and Liberal Democrats welcomed the measures, but Labour and the SNP disputed claims the chancellor's plans would boost growth.
Meanwhile, campaigning has begun ahead of the Scottish Parliament election on 5 May.
The UK government said next month's planned 4p rise in fuel duty had been scrapped, as it moved to cut the levy by 1p per litre from 1800 GMT on Wednesday.
A fuel stabiliser will also reduce future taxes as oil prices go up.
The Treasury also said a further increase in personal allowances in 2012 would cut income tax for 2.2m Scots, while a total of 92,000 people would be taken out of income tax by April 2012.
And the Scotland Office said the £30bn Scottish government budget would also get a £70m boost in the next fiscal year, resulting from funding decisions made by the chancellor which do not apply north of the border, such as money to deal with potholes, skills training, business rate relief and help for homeowners.
But the Chancellor also downgraded the growth forecast for 2011 from 2.1% to 1.7%, due to higher inflation and the surprise contraction in the economy at the end of last year.
Scottish Tory finance spokesman Derek Brownlee moved away from claims that the fuel price plans would hurt oil investment, adding: "There's a balance to be struck, but the price of fuel has increased significantly.
"People have been calling for a fuel duty stabiliser and that's pretty much what we have seen announced - it's good news for families."
Echoing the comments, Scottish Lib Dem leader Tavish Scott said: "This is really good news for families and businesses in Scotland - a real reduction in fuel costs, the first time that's happened in 13 years."
Mr Scott said that, with oil prices now at 120 dollars a barrel, the oil industry was making "significantly large profits", adding: "It's only fair to help families, businesses and individuals across Scotland by using some of that money to help them in this really tough time in the economy."
But the SNP Scottish government's finance secretary, John Swinney, said great care had to be taken not to disadvantage the oil sector, adding that the fuel price announcement had to be seen in perspective.
"Fuel in the last 12 months has gone up by over 25p a litre, and the chancellor reduced the cost of fuel by 1p a litre," he said.
"What the chancellor has done has demonstrated clearly to people in Scotland that the North Sea remains a significant contributor to the UK economy and able to fund the policies that are being delivered by the United Kingdom government."
Scottish Labour leader Iain Gray said: "You have to be careful about not damaging investment prospects in the oil industry.
"But what makes me sceptical is that George Osborne wants credit for cancelling a planned increase something which Labour did on a dozen occasions previously when the oil price was high.
"Its clear this budget wont deliver growth and the chancellor's own figures downgrade the growth forecasts."
Elsewhere, UK ministers said the Scottish government would be allowed to carry forward £130m of underspend from this financial year into next.
And plans to increase alcohol duty by 2% above inflation each year to 2014-15 will also go ahead.