William Hague: 2011 to be key one in human history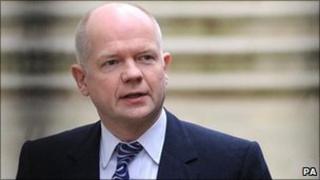 This year will be seen in centuries to come as a key one in the development of human history, UK Foreign Secretary William Hague has predicted.
He warned that, if the situation in the Middle East and Africa went wrong, the effect on the world economy would make the recent financial crisis seem like a "mere prelude" to greater problems.
He also told an audience in London that action in Libya had "saved many lives".
But Mr Hague said it was "too early" to set a date for ending the mission.
UK forces have been taking part in action in Libya since Saturday, as part of a coalition including the US and France.
This follows the passing of United Nations Security Council Resolution 1973, which authorises "all necessary measures", short of bringing in an occupying force, to protect Libyan citizens as Colonel Muammar Gaddafi's regime battles with rebel forces.
It also puts arms embargoes and a no-fly zone in place.
'Early stages'
Addressing the Times CEO Summit Africa, in London, Mr Hague dwelt on the wider pattern of uprisings in Africa and the Middle East, which has recently resulted in regime changes in Egypt and Tunisia.
He said: "Just imagine for a moment the magnitude of this… this is something clearly affecting a wide area of the Middle East and North Africa and it will affect more countries yet. This is in its early stages.
"If these countries turn into stable democracies, open economies, imagine the benefits that will bring to the stability of the world.
"But imagine if it went wrong. Imagine if, actually, extremism, terrorism were promoted. Imagine the financial consequences as well as the human and moral consequences of this going wrong.
"This going wrong in the Middle East, the area that produces so much of the world's oil and gas, that contains so many tensions in the world, would have financial consequences that would make the last three years seem the mere prelude to much greater difficulties. That is why the stakes are so high."
Mr Hague said there were signs of growing disquiet in sub-Saharan Africa, including Zimbabwe.
The efforts of regimes to stifle reporting were "futile" in a "global communications age", he added.
Speaking of the wave of rebellions, the foreign secretary said: "The consequences will be global. This ripples out more widely across the globe and signals a desire in an internet age for people to have information and control over things that directly affect them.
"[This] is a major thing in human society and the bubbling up of this in Arab world I think shows that it will bubble up in many other places too.
"It's very hazardous to write history when we are still taking part in it but in one or two hundred years I think 2011 will be seen as a very important year in the development of human history."
'Greater chance'
There has been debate over the aim of action in Libya, with UK Defence Secretary suggesting the ousting of Colonel Gaddafi could become a legitimate policy, but the head of the armed forces, General Sir David Richards saying this is not the objective.
Mr Hague said: "It is not for us to choose the government of Libya - that is for the Libyan people themselves.
"But they have a far greater chance of making that choice now than they did on Saturday, when the opposition forces were on the verge of defeat.
"With our partners we have halted the advance of Gaddafi's troops towards Benghazi and prevented his planes from wreaking havoc from the skies, and this has undoubtedly saved many lives."
He added: "We will continue to enforce United Nations Security Council Resolution 1973 until there is a complete and genuine ceasefire and an end to attacks on civilians.
"At a time of such hope and optimism in the Middle East, we cannot let the Libyan government violate every principle of international law and human rights with impunity."
A government motion to support action in Libya won a majority of 544 votes in the House of Commons on Monday.