Budget 2011: George Osborne to put faith in growth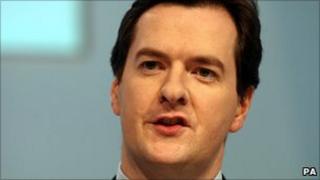 The dropping of hints about the chancellor's plans has grown as traditional as the lifting of the famous red box on Budget day.
So we know George Osborne will do something to make fuel cheaper because the prime minister has been suggesting as much since January
The question is: what? Scrapping a plan to put up fuel duty by one penny on top of inflation in April would cost the Treasury just over £1.5bn according to the Institute for Fiscal Studies.
Putting in place the idea suggested in the Conservative election manifesto of reducing duty when oil prices rise, and putting duty up when oil prices fall, could, if miscalculated, cost much more.
Motorists' expectations are high. By commenting on fuel duty the government has tried to show it is listening, and ensured anything but a significant change will prompt disappointment.
It is no mystery that the Treasury wants the measures it will announce on Wednesday to grow the economy.
The chancellor has already said enterprise zones - areas in which taxes are lower and planning regulations lighter to attract new businesses - will feature in the Budget.
In the words of a recent speech Mr Osborne says the Budget will be "unashamedly pro-growth, pro-enterprise and pro-aspiration".
With that, he buoyed the hopes of business groups who will, like motorists, waste no time in expressing their disappointment should they feel underwhelmed by the Budget announcements.
Just as the chancellor faces criticism if he is seen to be doing too little on growth, few measures designed to expand the economy will win praise from everyone.
He is widely expected to ease planning laws. The Organisation for Economic Co-operation and Development describes British regulations in this area as "excessively restrictive" and the Treasury tends to agree.
But backbench MPs anticipating rows about developments in their constituencies, and some rural groups, will object.
Newspaper stories, described by the Treasury as speculation, suggest the smallest categories of businesses could be exempted from maternity and paternity rules. To some that means stripping costs and red tape, and helping growth. To others it spells a more difficult life for parents.
Expect announcements too on simplifying taxes and removing red tape.
Mr Osborne knows he has not much room for manoeuvre.
In October he set out how much he wants the government to spend for the next four years.
Every chancellor keeps back big announcements for Budgets but those plans are not about to be ripped to shreds, and will continue to dictate the shape of public spending and cuts.
The Treasury knows with absolute certainty it will not please everyone. It will hope not to disappoint too many voters and influential groups.
But the real test of this Budget will be whether the economy does indeed grow. On the day itself no one will know the answer to that, but in time the verdict will be very clear.