David Cameron meets allies for Libya crisis talks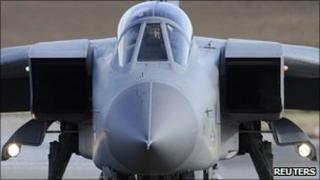 David Cameron has joined world leaders to discuss the crisis in Libya after the UN agreed to action to protect civilians from Col Gaddafi's forces.
The meeting in Paris came as French jets were reported in Libyan airspace.
The UN Security Council agreed to "all necessary measures", short of military occupation, to protect civilians from leader Col Muammar Gaddafi's forces.
The regime has declared a ceasefire but offensives are reportedly continuing in the rebel-held city of Benghazi.
There are reports that the city is under attack, and tanks have been seen on the streets.
Libyan officials have dismissed these reports as untrue, and said it would abide by the UN resolution and international observers could enter the country to verify the situation.
A meeting of the government's emergency management committee "Cobra" was held earlier in Downing Street, chaired by Deputy Prime Minister Nick Clegg.
The agenda was dominated by Libya. However a spokeswoman said there were also discussions on events in Yemen and Bahrain.
Further details of the meeting are not being revealed, ahead of potential military action involving British forces against the Libyan regime.
Meanwhile the government's decision to pursue a no-fly zone was backed by Labour leader Ed Milliband addressing a party conference in Scotland.
"We know in our hearts and in our heads when we see Colonel Gaddafi murdering his own people, it is right to take this action" he said.
The commander in charge of planning for the no-fly zone will be US Adm Samuel Locklear, the BBC's Mark Urban has learned.
Two RAF Tornado aircraft were seen taking off from RAF Lossiemouth in Scotland and landing at RAF Marham in Norfolk. The planes are now reportedly equipped with long range fuel tanks.
Neither the Ministry of Defence nor Downing Street have yet confirmed whether any aircraft have left to join the no-fly zone operation.
Meanwhile Canadian military aircraft arrived at Prestwick in Scotland. An airport spokesman described thier appearance as "quite normal".
A joint statement by the UK, France and the US demanded that Col Gaddafi's troops stop their advance on the rebel stronghold of Benghazi and pull back from the towns of Ajdabiya, Misrata, and Zawiya.
It also said water, electricity and gas supplies must be re-established to all areas, and humanitarian aid allowed to reach the Libyan people.
"These terms are not negotiable," the statement said.
'Actions not words'
The UN resolution imposes a ban on all flights in Libyan airspace, excluding aid flights, and authorises member states to "take all necessary measures" to "protect civilians and civilian populated areas under threat of attack" short of putting an "occupation force" on the ground.
It would permit air strikes on Libyan ground troops or allow attacks on Libyan war ships if they were attacking civilians.
Speaking on Friday, Mr Cameron said of Col Gaddafi: "We will judge him by his actions not his words.
"What is absolutely clear is the UN Security Council resolution said he must stop what he is doing, brutalising his people. If not, all necessary measures can follow to make him stop."
Mr Cameron said on Friday that RAF Tornados and Typhoons, as well as surveillance and air-to-air refuelling craft, would be ready to leave within hours.
The prime minister told MPs that the resolution was "very clear" in its aims to bring hostilities in Libya to an end and to protect civilians from a possible "bloodbath" in Benghazi.
Asked whether the UN agreement endorsed regime change in Libya, he said he continued to believe the country had no future with Col Gaddafi in power and this view was widely shared by the UK's allies.
"Any decision to put the men and women of our armed forces into harm's way should only be taken when absolutely necessary," he said.
"But I believe that we cannot stand back and let a dictator whose people have rejected him kill his people indiscriminately. To do so would send a chilling signal to others."
Military preparations
The Tornado GR4 fighter jet, equipped with precision weapons, is among the first military assets the UK could use to defend a no-fly zone.
The planes are stationed at RAF Marham and RAF Lossiemouth, though it is not yet clear which military base they would ultimately fly from. Options include bases in southern France, southern Italy or RAF Akrotiri in Cyprus, or - with permission - Malta.
Typhoon warplanes, based at RAF Coningsby and RAF Leuchars, are most likely to be used in an air-to-air combat role. UK reconnaissance and refuelling planes are also being deployed.
MPs are to get the chance to vote on the UK's potential involvement at the end of a Commons debate on Monday. Mr Cameron said there would be "full parliamentary scrutiny" of the issue and MPs would have access to a summary of Attorney General Dominic Grieve's legal advice.
The Conservatives' Lib Dem coalition partners are supporting the action, saying it is a wholly different situation from the 2003 Iraq war which they opposed. Labour leader Ed Miliband also gave his party's backing, saying the world could not "stand by and do nothing" in the face of the violence in Libya.