Thatcher archives: Clown school closure apology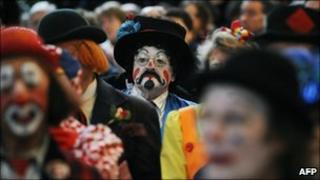 Margaret Thatcher wrote a personal letter in 1980 to school pupils upset by the closure of a clown training school due to government cuts.
The letter is among 30,000 documents newly released by the Thatcher archive.
The archives reveal Baroness Thatcher's concerns about the effect of cuts and economic recession on the public mood.
They also show her determination not to reverse policies, culminating in her famous "the lady's not for turning" speech at the 1980 Tory conference.
The clown training school was funded by the Arts Council; the then Mrs Thatcher explained that "more people apply for grants to help with their work than we can possibly afford".
But she went on to say, in a letter to pupils in Class 2 at Edgeside Church of England school, in Lancashire, via local MP David Trippier, that clowns would continue to receive public funds to some degree and "it will not mean the end of clowns performing in schools or elsewhere".
"I do hope this will make the children at Edgeside School feel a little happier," she adds.
Radio feuds
In another note, published for the first time by the archive, Margaret and Denis Thatcher discover that they had each been booked to open separate - and rival - antiques fairs in London on the same day (9 September, 1980).
When asked to attend both by an aide, Denis Thatcher replied: "Good Grief! No. One antiques fair per day is enough."
The No 10 political office gave the Thatchers a portable radio for Christmas in 1979, the papers reveal.
Mrs Thatcher replies from Chequers: "Thank you a thousand times for solving a perpetual family feud as to who should have the radio by providing us with another one.
"Now we can all listen to the Today programme and all complain to the BBC! It was most generous and we do thank you."
The files are full of letters from business people urging the prime minister not to give up in her battle to boost enterprise and tame the trade unions.
'Not a nut'
Baroness Thatcher asked her staff to keep these letters, to raise her spirits in the grim economic climate.
In one typical example, JD Bott, managing director of a small business in Cornwall, writes: "I am not a nut. Indeed I am immediate past president of the British Woodworking Federation, and if this letter only serves to give encouragement for continuing on the present path, then so be it."
Another letter is from future horse racing pundit, John McCririck, thanking Mrs Thatcher for an interview she has given to him.
He writes: "Without 'crawling' in any way, may I say what a refreshing pleasure it was to conduct an interview so frank and open with none of the so-familiar 'on the one hand - on the other hand' syndrome."
He concludes by assuring Lady Thatcher: "Not all journalists are trendy left-wing wets!"
There is also much concern over the growth of public sector salaries, although the benchmark is not the prime minister's salary as it is today.
In a letter to Mrs Thatcher's Parliamentary Private Secretary, Ian Gow, Tory MP John MacGregor raises the case of a constituent's daughter-in-law who works for the Manpower Services Commission.
"Following a recent pay rise of £1,000, as a result of awards in the past year, she at the age of 25 now earns more than her husband," writes the South Norfolk MP.
In his reply, Mr Gow asks for "detailed chapter and verse" on the case.
Baroness Thatcher's official files, containing Cabinet minutes and government documents as opposed to her own private files, were opened at the National Archives in Kew two months ago.