Councils should keep business taxes, says Eric Pickles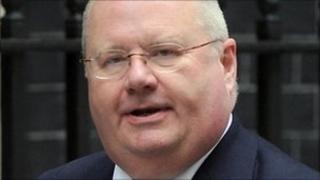 Councils in England could keep taxes raised from local businesses to make them less dependent on Whitehall funding, under government proposals.
Currently £20bn of business rates are collected by councils but sent to central government, which redistributes them according to need.
Communities Secretary Eric Pickles said that was a "disincentive to growth" and is reviewing council resources.
Labour said the poorest councils must not be allowed to lose out on funding.
Mr Pickles launched the first part of the Local Government Resources Review on Thursday, to look at ways to set up a new system for business rates and the government grant.
He said the current system penalised "economically successful" councils and the government wanted to reduce dependency on Whitehall grants for as many councils as possible.
The government hopes that allowing councils to keep their own business rates will be an incentive to encourage private sector growth and regeneration by giving them a "direct stake in the future of their area".
'Dire consequences'
But they say the review will be "fair to all councils" and those in the most deprived areas will continue to get central government support.
Mr Pickles said: "We want every community to be open for business and rewarded for economic growth, but at the moment there is no motivation for councils to support local firms or create new jobs."
"One of the best ways we can change that is to free councils from their enslavement to government grants and put them in control of their own destiny.
"By letting councils repatriate their business rate income, you make the system more straightforward and councils more self-sufficient in one fell swoop whilst deprived councils would still get the support they need."
But, for Labour, shadow local government secretary Caroline Flint said the poorest councils were already getting hit harder by cuts than richer councils.
She said: "Fairness and incentives to boost enterprise right across the country should be at the heart of any reform.
"The government must look at ways to ensure those currently reliant on redistribution do not lose millions of pounds in funding, which would have dire consequences for local jobs and growth as well as front line services."
The government will consult with councils and business about the proposals before reaching conclusions in July.