Minister rejects 'vermin cull' call for urban foxes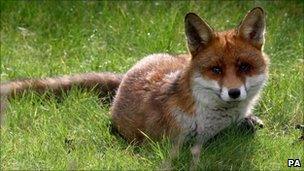 Ministers have rejected calls for urban foxes to be re-classified as vermin, which MPs worried about their spread say would make them easier to cull.
Tory MP Greg Hands said the number of attacks on people by foxes meant a change in the law was needed.
Environment minister Jim Paice said "problem foxes" had to be controlled.
People were within their rights to remove foxes from their premises, he added, but "exterminating" them was "neither desirable nor possible".
The issue of the increasing number of foxes in town and city centres hit the headlines last year when two young children were attacked in their home in London, suffering serious injuries. Research has suggested there could be as many as 37,000 urban foxes in the country.
"Last summer a number of my constituents were attacked in their own homes by urban foxes," he told Mr Paice.
"Could you liaise with the Communities Secretary (Eric Pickles) to see if we could change the law so that urban foxes could be treated as vermin in the same way as rats and mice are?"
Mr Paice said the law did not need to be changed for councils and residents to take action against urban foxes.
"Whilst the extermination of urban foxes or indeed rural ones is neither desirable or possible, problem foxes do need to be controlled," he replied.
"In urban areas that is the responsibility of the owner or occupier of the property who can use legal methods to cull or remove foxes."
It is lawful for people to kill foxes by shooting, snaring or trapping them in a baited cage - although poisoning is not allowed.
However, Natural England says such measures are "not generally recommended" in urban areas for safety reasons and since culled animals are only likely to be replaced by others. It advises homeowners not to feed the animals and build perimeter fences to keep them out.
"Having some wildlife in urban areas gives great delight to many people," he said.
Mr Paice also said there was "anecdotal evidence" that people were removing foxes from city streets and releasing them in rural areas.
"I would suggest that that is actually very cruel because those foxes are not accustomed to living on their own or hunting for their prey," Mr Paice said. "It's usually all there in refuse bags in urban areas."
"Many of them - and farmers and others will bear witness - wander around the countryside in a somewhat dazed situation."
Related Internet Links
The BBC is not responsible for the content of external sites.