Japan crisis: UK nuclear review to report in two months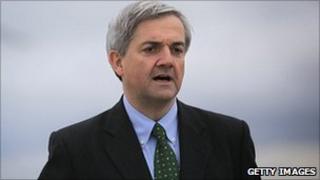 A review of the safety of UK nuclear plants will publish its initial findings in May, officials say.
The report was ordered by Energy Secretary Chris Huhne to "learn the lessons" for the UK from the crisis at the Fukushima nuclear plant in Japan.
Explosions and radiation leaks from three of its reactors followed Friday's earthquake and tsunami.
The UK's chief nuclear officer Mike Weightman said the report would be "comprehensive" and "wide in scope".
He was speaking after attending a meeting of the Nuclear Development Forum - a body set up in 2008 to facilitate discussions between ministers, nuclear operators and potential investors about future expansion - chaired by Mr Huhne at which the issue was discussed.
'External hazards'
Ministers have advised people not to "rush to judgement" about the implications for the UK of the problems at the Japanese plant, saying they are confident that existing safety procedures are "robust" but they should not be complacent.
Announcing that the interim findings of his report would be published within two months - and the final report within six months - Dr Weightman said it was important to consider the implications of what had happened in Japan for the UK.
"We must establish the facts, which are emerging and not yet fully known," he said. "The nuclear regulatory standards in the UK ensure our nuclear power reactors are robust against all the external hazards that may be foreseen in the UK."
Dr Weightman, who is head of the Health and Safety Executive's Nuclear Directorate, said his report would be made public.
"The report will be comprehensive, wide in scope and based on the best technical advice, consulting nationally and internationally with colleagues and organisations who, like us, have the safety and security of people and society uppermost in our minds."
The crisis in Japan has prompted the European Union to call for all plants in its member states to be "stress tested" for their safety. In response, Germany has temporarily shut down a number of its older plants while China is reviewing its ambitious future expansion plans.
'Wider in scope'
David Cameron has made it clear the UK is not prone to seismic activity of the kind seen in Japan and its plants do not use the same technology but has said the nuclear industry must "learn lessons" from what happened in Japan.
All but one of the UK's existing nuclear plants are scheduled to close by 2023 and eight locations have been shortlisted for replacements. A handful of MPs have said ministers should reconsider the plans although most are still in favour of pressing ahead.
The nuclear industry insists safety controls already in place are stringent, that existing plants are built to withstand "credible seismic scenarios" and it is "confident" about the future of nuclear in the UK.
Environmental campaigners say Dr Weightman should broaden his report to look at all nuclear facilities, such as spent fuel stores, and take evidence in public.
"It is welcome news that this review will be longer and wider in scope than was originally reported," Greenpeace's John Sauven said. "The approval process for new nuclear power stations should be suspended while we await its findings."