Libya: UK, France and Lebanon table no-fly zone plan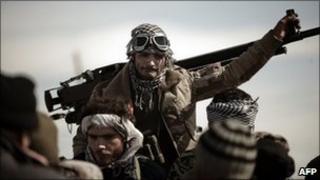 Britain, France and Lebanon have tabled a draft United Nations resolution which would impose a no-fly zone on Libya.
The draft resolution would also ban commercial flights from bringing arms and mercenaries into Libya.
Britain and France have led moves to prevent air attacks on rebels by pro-Gaddafi forces - Germany and Russia are said to oppose plans.
The Arab League has backed the idea but a meeting of G8 foreign ministers in Paris earlier failed to do so.
It comes as fierce fighting continues between Colonel Gaddafi's troops and opposition groups. Government planes have been bombing the outskirts of Ajdabiya, the last town before the rebel base in Benghazi.
'Force the pace'
Talks on a no-fly zone have been held in recent days between British representatives at the UN and their US, German and Lebanese counterparts.
Nick Robinson said he understood that the US had not yet agreed to the plan - but Britain and France were tabling it anyway, to "force the pace".
A no-fly zone was also discussed by Nato defence ministers last week, who agreed a clear UN mandate would be needed should Nato be involved.
Russian Foreign Minister Sergey Lavrov said the Arab League had not "formalised" its decision to back a no-fly zone on Saturday, adding that it had stated in the same declaration that it was "categorically opposed to any foreign intervention, particularly military intervention, in Libyan affairs".
And on Tuesday German Foreign Minister Guido Westerwelle warned against military intervention, adding: "We do not want to get sucked into a war in North Africa and we would not like to step on a slippery slope where we all are at the end in a war."
The BBC's Barbara Plett at the UN said there was still much dissent at the UN, and in Europe, over a no-fly zone.
She said the US was believed to be reticent about getting involved in a no-fly zone and there was a great fear about getting sucked into another war.
She said diplomats would consult with their capital cities overnight and negotiations were expected to start on Wednesday.
A UN diplomat told the BBC the draft resolution would establish a ban on all flights in Libya, would authorise member states to enforce it and call on them to participate in it.
Aside from the no-fly zone it also urges stronger enforcement of the arms embargo, adds names, companies and entities to the sanctions list, bans commercial flights from bringing arms and mercenaries into Libya and would set up an expert panel to monitor implementation.
UK Prime Minister David Cameron said last week that a no-fly zone would have to be "necessary, legal and win broad support" but added Europe must be "ready to act" if the situation in Libya required it.
Rebel leaders in Libya have appealed for international help in limiting Col Gaddafi's resources as his forces maintain their onslaught on rebel positions in the east of Libya.
Col Gaddafi said on state television that the Libyan people would take up arms, if a no-fly zone was imposed by Western nations or the UN.