NHS plans will not change significantly: Downing Street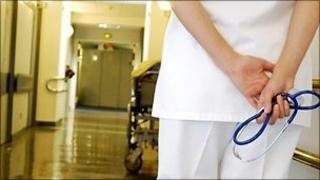 Downing Street has ruled out "significant changes" to government NHS reforms following their rejection by Liberal Democrat members.
Delegates at the party's spring conference voted at the weekend not to support a "damaging and unjustified" shake-up of health services in England.
Plans include axing primary care trusts and strategic health authorities.
No 10 said it would not make large changes to the proposals, but added they could be amended by Parliament.
Under the coalition government's Health Bill GPs would be given more responsibility for spending their budgets, with hospitals freed from central control and an independent board overseeing services.
The cost of the programme is predicted to be £1.4bn, with ministers saying this will more than be made up for in longer-term savings created by the removal of tiers of management.
Lib Dem activists are angry about what they see as Conservative plans that were not included in the coalition agreement.
At the party's conference in Sheffield, delegates voted to end "top-down" reorganisation of the NHS and impose limits to opening up services to more private competition.
In response, the Lib Dem leader, Deputy Prime Minister Nick Clegg, promised that "reform" would not mean "privatisation".
He claimed the changes the already made to the Health Bill went "with the grain" of activists' concerns, as they would increase accountability and transparency.
There had been suggestions in some on Monday's newspapers that the government plans faced a "radical overhaul".
But asked about those reports, the prime minister's official spokesman said: "There are not about to be significant changes to the policy."
He added that MPs and peers would have the chance to debate and, if necessary, amend the Health Bill.