Pre-trial hearing for Lord Hanningfield expenses case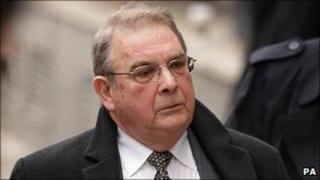 A pre-trial hearing has been held by a judge in the case of a Conservative peer facing accusations that he fiddled his parliamentary expenses.
Lord Hanningfield faces six charges of false accounting between March 2006 and May 2009.
They are said to relate to overnight allowances for staying in London when records allegedly showed he was driven to his home near Chelmsford, Essex.
Lord Hanningfield is the former leader of Essex County Council.
The 70-year-old Conservative peer did not attend the Old Bailey for the brief hearing.
Lord Hanningfield was charged under his original name of Paul White in February last year.
He was suspended from the Parliamentary Conservative Party and stood down as a frontbench business spokesman in the House of Lords and as leader of Essex County Council.
He said at the time that the accommodation claims had been made in good faith.
Another hearing is due to take place next month ahead of the trial scheduled for May at Southwark Crown Court.