Foreign inmates not deported: 64 still on loose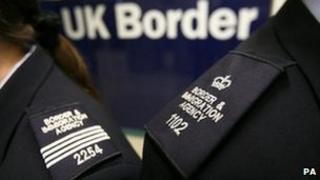 Sixty-four foreign ex-prisoners who were listed as missing in the UK five years ago have still not been located, the Home Office has said.
And 419 of those who have been found were not deported, with 389 being removed from the country, it added.
The Home Office said it was making "steady progress" in dealing with the 1,013 former foreign prisoners revealed to be still at large in 2006.
They included some rapists, murderers and drug dealers.
The then Home Secretary Charles Clarke was axed from his job in Tony Blair's reshuffle within weeks of the scandal emerging.
His successor, John Reid, declared parts of the Home Office "unfit for purpose", promising to clean up the situation.
'Age and complexity'
The latest UK Border Agency figures, released to the Commons home affairs committee, show that 110 of the former inmates are going through the deportation process and 23 are in prison.
It says that two-thirds of the prisoners deemed the "most serious" had been deported, but with 7% of cases of this severity not having been concluded.
The Home Office said it was making "steady progress with these cases despite their age and complexity", with six more people being removed from the UK since November.
When Mr Reid became Home Secretary in 2006 he also promised to deal with a backlog of more than 400,000 asylum seekers.
The Home Office said it had still failed to conclude 40,500 by this January, but added that 403,000 cases had been concluded.
Of these, 161,000 were granted asylum and 35,000 were deported.
However, 129,000 of the concluded cases were dismissed as "errors" on the part of officials.