The Forty's mission to challenge Tory stereotypes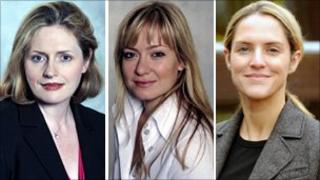 What do a former army officer, a successful "chick lit" novelist, a former adviser to the Queen and a trained classical singer have in common?
They are all Conservative MPs and they are also members of their party's newest campaigning group at Westminster.
The Forty as they are calling themselves, are the party's MPs with the narrowest of majorities - 18 of them won their seats with margins of less than 1,000.
Their aim? In short, it is to hang on to their seats at the next election. But that does not just involve doing a good job as constituency MPs, or trying to climb up the greasy pole of ministerial office.
They have a mission to punch through the stereotypes of existing Conservative MPs, of well-heeled Cameroons who want to measure how happy we all are, versus traditional backbenchers who devote time and passion to loosening the UK's ties with the European Union.
Westminster maze
In the words of one: "There is no stereotype now, and not everyone has caught up with that".
And their main desire, in one of The Forty's view, is to make the government concentrate on "jobs, jobs, jobs".
Unlike other Conservative groups, and the 1922 Committee of which all backbenchers are a member, The Forty have purposefully not created a structure with elections for official posts where MPs conspire to give each others ranks and roles.
One told me MPs even sit in a circle in part to show there is no hierarchy, no time or interest in using the group as a way for individuals to build their own empires.
And they say they are not just sitting around talking to each other, comparing notes on making "our way through the maze" of Westminster.
The prime minister has taken an interest in the group, and I'm told has been to some of their meetings.
The Forty believe he is taking them seriously as a campaigning group. For their part, they want to focus his attention on the concerns of everyday people, in a way that some Conservative MPs believe Downing Street advisers fail to do.
Meanwhile Liberal Democrat MPs, concerned that their voices have not been heard by the party's bosses or ministers who, for some, have got on far too well with their Conservative colleagues, have also established their own Backbench Group.
This is a departure for the party which has a well-established democratic structure where things are normally discussed in open meetings for all MPs.
The Backbench Group though, will only be open to ministers by invitation.
And it is separate to committees that have been set up to look at developing ideas and policies for the future.
Nick Clegg was told about the new gathering before its first meeting on Valentine's Day and I'm told he was "very relaxed" about its formation. He might not be so relaxed about what they have to tell him in future.
The aim of the Lib Dem group is to try to preserve an identity separate to the government because the founder, Greg Mulholland, is one of many who believes the party has not done a good enough job of it so far.
But it is not just that. Some Lib Dem MPs believe that if their colleagues who have jobs in the government had asked them for their views, or listened to what they had to say earlier on, some of the coalition's upsets might have been avoided.
It is impossible to tell at the moment if either The Forty or the Lib Dem Backbench Group will make much difference, but it is clear the rank and file of both coalition parties feel ministers need reminding of what really matters to them, and the constituents who sent them to Westminster.
And for some, the tried and tested ways of party communication have not been up to scratch for life under the coalition.
The Conservative MPs who make up The Forty are:
Dan Byles
George Eustice
Jackie Doyle-Price
Matthew Offord
Nicola Blackwood
Jonathan Evans
Mark Spencer
James Wharton
Anna Soubry
Eric Ollerenshaw
Sarah Newton
Anne Marie Morris
Nigel Mills
Peter Aldous
Paul Uppal
Andrew Jones
David Morris
John Stevenson
Neil Carmichael
Graham Evans
Karl McCartney
Richard Harrington
Oliver Colvile
David Mowat
Simon Reevell
Richard Fuller
Simon Kirby
Stuart Andrew
Glyn Davies
Louise Bagshawe
Mary Macleod
Mike Weatherley
Nick de Bois
Amber Rudd
Anne Main
Ben Gummer
James Morris
Marcus Jones
Richard Graham
Michael Ellis
David Nuttall