William Hague in Libya sanctions appeal to EU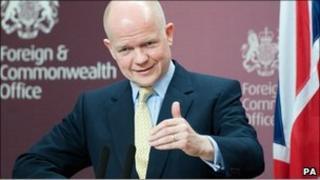 Foreign Secretary William Hague and his German counterpart have urged the European Union to explore ways of imposing more sanctions on Libya.
In a joint letter to EU foreign policy chief Baroness Ashton, they said Europe should adopt a united front on Libya.
They call on EU governments to agree not work or co-operate with Colonel Muammar Gaddafi's regime.
Earlier, Prime Minister David Cameron defended Mr Hague against Labour criticism over Libya.
'Clear response'
The letter, signed by Mr Hague and Germany's Guido Westerwelle, says Col Gaddafi "has to step aside to allow for a true democratic transformation of the country".
Sources at the Foreign Office say this does not mean cutting formal diplomatic ties with Libya, but consideration is being given to further ways to "isolate" Col Gaddafi.
The letter continues: "The EU should agree to an ambitious, clear response with a series of concrete actions both for the short and longer term."
Mr Hague is calling for an EU declaration on Libya and the wider Middle East, covering humanitarian and economic assistance as well as the possibility of further sanctions.
When asked whether the letter marks an attempt by the UK to "get on the front foot on Libya", a Foreign Office source said "we have always been on the front foot".
Commons clashes
EU foreign ministers are meeting in Brussels on Thursday, and a Nato summit is also being held.
Fighting continues in Libya between forces loyal to Col Gaddafi and those seeking to end his 41-year rule, three weeks after hostilities began.
In Commons clashes on the government's response to the crisis, Mr Cameron said he would not take any lectures on dealing with Libya.
Labour leader Ed Miliband said there had been a series of mistakes by the UK government in the way it had dealt with events in Libya.
These included delays in getting UK nationals out of the country, Mr Hague's remarks that Col Gaddafi may have left the country for Venezuela, and "overblown briefing" about potential military action and the abortive SAS mission, he said.
The prime minister said Mr Hague was an "excellent foreign secretary" and that the UK had led the way in getting a tough UN resolution on Libya.