David Miliband says centre-left in Europe 'lacks ideas'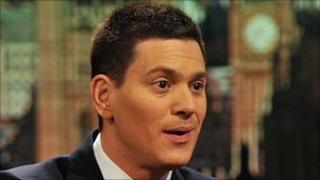 Centre-left parties across Europe are suffering from a "deficit of ideas", David Miliband has said.
The ex-Labour foreign secretary said they had failed to respond to social and economic changes and the challenge of a "newly flexible" centre-right.
As a result, they were losing the support of working class, middle income and younger aspirational voters.
Mr Miliband quit frontline politics in October after being beaten by his brother Ed to the Labour leadership.
He has generally kept a low-profile since then, making only occasional speeches in Parliament, where he remains as an MP.
'Not confident'
In a speech at the London School of Economics, Mr Miliband said Labour's performance in last year's election - when it lost more seats than at any time in 80 years - was mirrored by heavy defeats for centre-left parties in Sweden, Germany, the Netherlands and France.
"Left parties are losing elections more comprehensively than ever before," he said. "They are fragmenting at just the time the right is uniting. I don't believe this is some kind of accident."
Over the past decade centre-left parties in Europe had been unable to decide whether to "disown or embrace" the electoral strategies which had served them so well during the 1990s, he argued.
"After a decade of extraordinary, in fact unprecedented, success in the 1990s - under the banner that was in Britain called New Labour - reformist social democracy seems to have been put in check by so-called compassionate conservatism. The question is whether it is checkmate."
Centre-left parties needed to understand the reasons for their lack of recent electoral success rather than waiting for their rivals to "run out of steam", he said.
Issues they had to address included immigration - in which the centre-left was regarded as "suspect at best and guilty at worst" - the balance between tax and spending and how to stimulate economic growth and job creation beyond direct state control.
"To turn things around we need to address both the deficit of ideas and organisation that currently confronts the European left".
Under his brother's leadership, Labour is conducting a top-to-bottom two-year review of its policy in preparation for the next general election due in 2015.