Cameron urges economy 'rebalance' to restore growth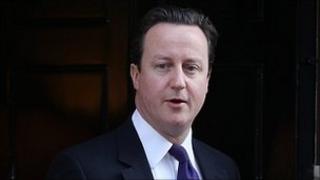 David Cameron has promised a "massive rebalancing" of the UK economy in an effort to promote growth.
The prime minister urged the private sector to provide ideas for reducing restrictions on business.
The economy, which shrunk in the last quarter of 2010, was "too reliant on government spending, on housing and on finance", he added.
Mr Cameron spoke to business leaders at a summit in Coventry, following a cabinet meeting in Derby earlier.
His speech was a continuation of the theme outlined at the Conservative spring conference at the weekend, when he pledged to deal with the "enemies of enterprise".
It came after the government announced £50m in funding for projects to help firms overcome skills shortages.
'Absolutely key'
Official figures indicate the UK's gross domestic product fell by 0.6% during the last three months of 2010.
Heavy snow has been blamed for much of the slump, but critics of the government say that, even when this is taken into account, the economy stagnated during the period.
The prime minister and his deputy, Nick Clegg, addressed a summit of the chairmen of Local Enterprise Partnerships: alliances between councils and companies, which replaced Labour's Regional Development Agencies in England.
Mr Cameron told delegates that "nothing is possible without economic growth".
He added: "It's the most important thing that we have to secure and it is particularly important after the difficult recession that we've had."
Mr Cameron also said: "What we need to do in this country is a massive rebalancing of our economy. We have been too reliant on government spending, on housing and finance... We have got to be more reliant on manufacturing and investment."
He said Local Enterprise Partnerships would play an "absolutely key role in bringing that rebalancing".
He added: "We will be a very pro-business government. That's what you will get from us."
But the British Chambers of Commerce has warned that the "jury is out" on the partnerships due to their lack of resources and uncertain powers. So far more than 30 have been formed, but although they cover more than 70% of England's population there are still gaps.
On Sunday the prime minister dismissed "cowardly" calls for public spending cuts to be eased and promised to help the economy by cutting tax and bureaucracy and boosting trade.
He said George Osborne's Budget on 23 March would be "the most pro-growth for a generation".
The CBI has urged the chancellor to show a "relentless focus on growth", concentrating on export performance, investment spending and the removal of barriers for high-growth firms.
It also wants to see a reduction in the 50% top rate of income tax by the end of this parliament.