Analysis: David Cameron's spring conference speech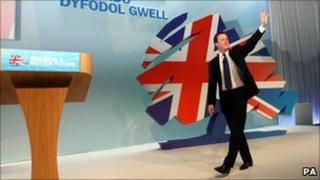 David Cameron's aides were talking up his keynote speech at this spring conference as a "new chapter in the economic story of this government".
Mr Cameron is said to be deeply frustrated by the media's constant focus on spending cuts.
This was meant to be the start of a new, more optimistic story - a story of growth and renewed economic dynamism, building up to Chancellor George Osborne's Budget on 23 March.
But it was, by necessity, a little short on specifics.
Any goodies the government has up its sleeve, on fuel duty for example, will be saved for the Budget.
But with no money to spend they will fall more into the category of clever wheeze than big spending commitment.
'Go-getters'
Mr Cameron went out of his way to lavish praise on entrepreneurs and wealth creators in his big speech.
It was pure Margaret Thatcher - he even dusted off "go-getters", a phrase last heard in a 1980s motivational video.
But there was a real edge to his appeal to the roofers, builders and small businessmen of Britain to rise up and get the country moving again.
They are, he told activists, our only hope of a return to growth. The government will do all it can to help them - by cutting red tape and opening up public procurement - but ultimately it will be up to them to make it happen.
The other big theme of this weekend in Cardiff has been the looming referendum on changing the voting system.
The No2AV campaign, which was much in evidence here, are banking on the support of Tory voters when the nation goes to the polls on 5 May.
'Obscure'
Mr Cameron did his bit by indulging in a call and response routine with the conference audience as he urged them to reject the Alternative Vote.
Cameron: "Do you want a system so obscure it's only used in three countries in the whole world - Australia, Fiji and Papua New Guinea?"
Conservatives: No!
And so on.
Some have suggested that the result will mean little to Mr Cameron - not as much as it will to Nick Clegg at any rate.
But he will know that it matters a great deal to Conservative activists.
Most, it appears, can just about live with the coalition. Some even claim the Conservatives have achieved more in partnership with the Lib Dems than they would have done with a small majority of their own.
Red meat
But none I spoke to this weekend want it to continue beyond the next election. And they fear that under the Alternative Vote system it will be coalitions all the way from here on in.
They would not forgive Mr Cameron if he lets that happen, which is why he is likely to continue adding his voice to the No2AV campaign.
Mr Cameron's backbenchers are said to be feeling neglected and unloved by the party leadership, who they see as lavishing more attention on potentially wayward Liberal Democrats.
A little of that pent up frustration came out at the Conservative Home fringe, on Saturday night, where the party's grassroots cheered a back-to-Tory basics speech by leading right winger Liam Fox.
The wily Dr Fox managed to throw activists the sort of red meat they rarely get from the main conference stage these days, without once attacking Mr Cameron directly.
"I think we need to get back to some nice simple arguments about what makes us different from the other side," he told them.
"It is not wrong to make money. It is not wrong to employ people. It is not wrong to export things and increase Britain's place in the world and we must break away from the politics of envy that says it is wrong to get rich just because you are creating jobs and doing well for the country."
The party must be compassionate but, he added, it "must also be clear we don't have a moral duty to help those who won't help themselves".
In fact, Mr Cameron echoed some of this language in his own speech, but he also threw in a few references to the Big Society just to remind people the party had not fallen through a worm hole into the 1980s after all.