Pickles accuses councils of 'bleeding stump strategy'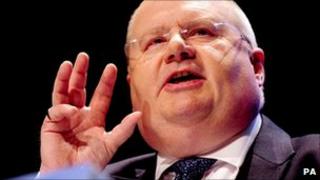 Eric Pickles has stepped up his war of words with Labour councils accusing them of a "bleeding stump" strategy.
The communities secretary is angry about councils publicising spending cuts and blaming them on ministers.
He says they should be cutting back office services and executive pay instead.
Labour leader Ed Miliband denied Tory claims that Labour councils were making bigger than necessary cuts for "politically motivated reasons".
Mr Pickles earlier claimed: "He (Miliband) won't stand up to his councillors and their 'bleeding stump' strategy."
Mr Pickles' tough-talking approach has upset some councils - with a group of Lib Dems last month urging him to end his "gunboat diplomacy".
In a speech to the Conservative spring conference in Cardiff, Mr Pickles said Labour councils were "playing politics with people's jobs, and people's homes, and people's services."
'Gory'
Quizzed afterwards about what Mr Pickles meant by his comments, local government minister Bob Neill accused some Labour councils of presenting cuts to services in the "most gory and attention-seeking way possible".
He denied such rhetoric was likely to lead to further confrontations with local authorities, saying: "Eric uses robust language but he is right to speak in the way that he does."
The Department for Communities and Local Government recently launched a crackdown on allegedly "politically-motivated" advertising, accusing some councils of using taxpayers' money to blame cuts on the government.
But councils argue that they are facing the bulk of the cuts to their budgets in the coming financial year, giving them little time "to spread the cost of reorganisation and downsizing".
More than 90 prominent Lib Dem councillors last month wrote to the Times to accuse Mr Pickles of letting them down - and to accuse coalition ministers of "denigrating" them in the media.
"Rather than assist the country's recovery by making savings to the public in a way that can protect local economies and the front line, the cuts are structured in such a way that they will do the opposite," wrote the councillors.
In a speech to the Local Government Association's Labour conference, Mr Miliband said: "The nastiest deceit of all, however, is the one in which David Cameron suggests Labour councils are making bigger cuts than they need to for politically-motivated reasons.
"Let me tell David Cameron something straight about the party I lead.
"A Labour council would never make unnecessary cuts to vital services and harm the very people our party was created to serve.
"No. We leave that kind of cynical and vicious behaviour to the Conservatives."