Libya refugee rescue flights leave UK for Tunisia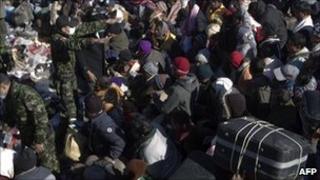 Two flights have left the UK for Tunisia to rescue thousands of Egyptians stranded on the Libyan-Tunisian border after fleeing violence.
A third charter flight will leave Verona in Italy later, the Department for International Development says.
A Thomas Cook plane left East Midlands airport at 1221 GMT and a Titan Airways charter left Stansted around midday.
It came as the prime minister insisted the UK was right to be looking at plans for a no-fly zone over Libya.
The two charter flights are due to arrive in the Tunisian town of Djerba and, along with the third, will shuttle up to 6,000 Egyptians - mostly migrant workers who have been unable to return home - to Cairo.
Tens of thousands have fled over the border since the Libyan revolt began.
Leader Col Muammar Gaddafi has said on TV he will "fight until the last man and woman" and has warned that thousands of Libyans will die if Western forces intervene.
Crisis fears
David Cameron, announcing the evacuation flights to the House of Commons, told MPs it was "vital to do this".
"These people shouldn't be kept in transit camps if it is possible to take them back to their home and I am glad that Britain can play such an important part in doing that," he said.
The prime minister said it was important "to make sure this emergency doesn't turn into a crisis" and Department for International Development (DfID) teams had been sent to the borders.
The move follows an appeal by United Nations Secretary General Ban Ki-moon for an international airlift to prevent a "humanitarian crisis" in the makeshift camps where the refugees are housed.
Meanwhile, DfID has flown 36,000 blankets and tents for 1,500 people in Tunisia.
The prime minister also said that the Royal Navy Type 42 destroyer HMS York, currently in the rebel-held port of Benghazi in eastern Libya, would also be available to assist with the relief operation.
International Development Secretary Andrew Mitchell said: "There is a real danger that without urgent assistance, the humanitarian situation on the Libyan border will deteriorate rapidly.
"We are deeply concerned that the large number of migrant workers fleeing Libya lack even basic shelter and face a shortage of food and clean water.
"We must act now to stop the situation deteriorating. Our evacuation flights are vital if we are to stop this humanitarian emergency from becoming a crisis.
"We call on others from the international community to follow our lead and help get these people out of the desperate situation they are in and home to their families."
Also in the Commons, the prime minister defended the government looking at plans for a no-fly zone over Libya after Labour's Ed Miliband told him a number of foreign governments had since "distanced themselves" from the idea.
Mr Cameron acknowledged that there would be some difficulties enforcing it and said the UK would comply with international law - but it was important to start planning in case Col Gaddafi took "further appalling steps to oppress his people".