David Cameron defends no-fly zone plan for Libya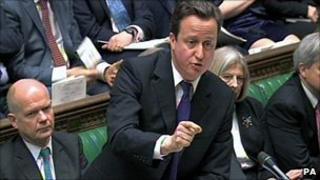 David Cameron has insisted the UK is right to be looking at plans for a no-fly zone over Libya.
The prime minister said the government was looking at "all eventualities" in case Muammar Gaddafi's regime uses air strikes against rebel groups.
But US Defence Secretary Robert Gates said a no-fly zone could be created only after "an attack on Libya" to destroy the country's aerial defences.
Labour said several countries had "distanced" themselves from the plan.
The Gaddafi regime has lost control of much of Libya as a result of a widespread revolt against its rule. Hundreds of people are thought to have died in the unrest.
A no-fly zone has been suggested as a way of protecting protesters amid fears the regime could use air force against them.
'Heartened'
Meanwhile, the government says it expects to airlift about 6,000 Egyptians stranded on the border with Libya, providing three aircraft which would fly between Tunisia and Cairo.
The BBC understands that two flights have left East Midlands Airport for Tunisia, the first departing at around 1100 GMT on Wednesday and the second at 1220 GMT.
During Prime Minister's Questions in the House of Commons, Labour leader Mr Miliband queried the practicality of a no-fly zone.
He told Mr Cameron: "On Monday you floated the idea of a no-fly zone. On Tuesday, however, a number of foreign governments distanced themselves from the idea.
"Can you clarify where that proposal now stands?"
Mr Cameron replied: "I do think it is the job of leaders in the Western world in particular to prepare for all eventualities and all the things that might happen, particularly if Col Gaddafi unleashes more things on his own people.
"On that ground, yes, I think we should and we are looking at plans for a no-fly zone."
He said he was "heartened" by US Secretary of State Hillary Clinton's comments that a no-fly zone was "an option that we are actively considering" and said Nato's North Atlantic Council was discussing the issue.
But, during a congressional hearing in Washington on Wednesday, Mr Gates said: "Let's just call a spade a spade. A no-fly zone begins with an attack on Libya to destroy the air defences... and then you can fly planes around the country and not worry about our guys being shot down."
Earlier this week, the US defence secretary said there was "no unanimity" within Nato about the possible use of armed force against the Gaddafi regime.
The chairman of the Commons foreign affairs committee, Conservative MP Richard Ottaway, said a no-fly zone would be "very difficult to operate".
He told the BBC: "Having combat aircraft circling permanently over Libya is practically very difficult. And there are manifest difficulties.
"But also it does look from the news reports that we're going into a full scale civil war here and intervening in civil wars does require a lot of thought before you actually jump. And I'm not sure there's enough thought gone into this yet so I would personally counsel caution."