Sir John Major defends Tony Blair's Gaddafi handshake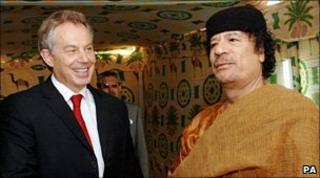 Former PM Sir John Major has defended his successor, Tony Blair, over his decision to improve relations with Libyan leader Muammar Gaddafi in 2004.
International pressure is mounting on the Libyan leader to step down, after violence in the country.
Mr Blair shook hands with Col Gaddafi in Tripoli, after the Libyan leader renounced weapons of mass destruction.
Sir John told the BBC that had been a "significant prize" even if it looked "slightly embarrassing" in hindsight.
As protesters in Libya attempt to end Gaddafi's 41-year rule, the UN estimates that thousands may have been killed or injured in a violent crackdown by the regime. This has led to travel bans and asset freezes being imposed on leading figures in the regime.
Mr Blair's decision to meet Col Gaddafi in Libya seven years ago - after years of strained relations following the Lockerbie bombing and murder of WPC Yvonne Fletcher - has since come under much scrutiny.
'Tough business'
Sir John, Conservative prime minister from 1990-97, told BBC Radio 4's Today programme it was "very easy" to be critical in retrospect and pointed out that he was not aware of all the circumstances Mr Blair faced and had not seen all the government papers from the time.
But he said: "I do observe some of the outcomes. One of them is that Gaddafi moved away from weapons of mass destruction, that was a very significant prize."
While, in retrospect, it was "slightly embarrassing in some ways" he added: "I have to say, government is a tough business.
"International politics isn't a Hampstead debating society, you have to make contemporary judgements and sometimes those contemporary judgements can look naive later, but it is necessary for governments to make those judgements."
He said there were people he had shaken hands with as prime minister which he would have preferred not to, but he did not regret it as it had been done "in the British strategic interest".
And he argued that people opposing arms sales would be the same people protesting against job losses, should the defence industry close down: "Governments aren't in a position to make those simplistic judgements, they must deal with the world as it is, it is sometimes uncomfortable, it is sometimes difficult, prime ministers in particular have to bear the heat for things they have done that in retrospect look naive, but I'm afraid that is in the nature of the job."
However, he added in a later interview that there were questions "to be asked and yet to be answered" about the release of Lockerbie bomber Abdelbaset al-Megrahi, and said if that had been in any way connected to the meeting between Mr Blair and Col Gaddafi "that would be quite indefensible".
A report by Cabinet Secretary Sir Gus O'Donnell into his release found that the Labour government did "all it could" to help facilitate Megrahi's release but found no evidence of Labour pressure on the Scottish government - which took the final decision.
Last week shadow foreign secretary Douglas Alexander told the BBC the Blair government had been "pretty clear eyed" about Col Gaddafi at the time: "This was a man who was developing nuclear weapons who approached the international community and made clear that he was prepared to renounce that nuclear weapons programme and renounce the methods and violence that he had used previously.
"Nobody had any illusions as to the repressive nature of the Gaddafi regime, but there was a judgement made, a difficult judgement, that the broader interests of the international community were served by Libya renouncing a nuclear weapons programme and sponsoring terrorism."
In the Commons on Monday, the previous Labour government's dealings with Col Gaddafi were repeatedly raised. Mr Cameron said: "I do think there are lessons to learn from what was the deal in the desert.
"The last government was correct to encourage the giving up of the weapons of mass destruction but I think more parameters should have been put on the relationship in terms of the release of [Lockerbie bomber Abdelbaset] al-Megrahi."
Mr Blair, now a Middle East peace envoy, has spoken to the Libyan leader by telephone since the protests began, reportedly to urge him to stop killing protesters.