Duke of York must lose trade job, says Labour MP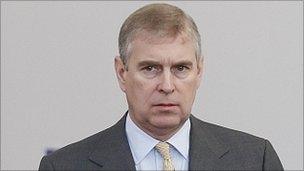 The Duke of York should be sacked as a UK trade ambassador because of his links to Colonel Gaddafi's son, a senior Labour MP has said.
Shadow justice minister Chris Bryant said Prince Andrew was a "very close friend" of Saif al-Islam Gaddafi and says he should lose his role.
Prime Minister David Cameron told MPs he was not aware of such connections but he would look at the claims.
Speaker John Bercow warned Mr Bryant to be "respectful" towards the Royals.
Prince Andrew's official role is as a roving ambassador for British trade, for which he receives no salary but has his expenses and travel costs paid.
Speaking in the Commons after the prime minister's update on the Libyan crisis, Mr Bryant, a former Foreign Office minister, said: "Isn't it increasingly difficult to explain the behaviour of the UKTI (UK Trade and Investment) special ambassador for trade, who is not only a very close friend of Saif Gaddafi, but is also a close friend of the convicted Libyan gun smuggler Tarek Kaituni?
"Isn't it time we dispensed with the services of the Duke of York?"
Mr Cameron replied: "I'm not aware of the particular connections he [Mr Bryant] chooses to make. I'm very happy to look into them."
After this, Mr Bercow intervened, telling MPs: "References to members of the Royal Family should be very rare, very sparing and very respectful.
"We have to be very careful in our handling of these matters."
In a point of order later, Mr Bryant said the parliamentary handbook, Erskine May, referred only to the Queen when discussing matters of decorum.
He said: "I presume it must therefore be possible for us to criticise members of the Royal Family when they are playing a particular role as a trade ambassador for this country on behalf of UKTI and that it would be possible to table written parliamentary questions in relation to that matter."
Mr Bercow replied: "My understanding off the top of my head is that you are correct.
"You are an assiduous follower of the use of language and I think you will recall that in making the observation I did, I emphasised the importance of treating these matters with great care and I said that on the whole it was preferable that references to members of the Royal Family were both sparing and respectable.
"But the entitlement to raise matters ... is, I think, undisputed and your understanding of Erskine May on this occasion, as I have to admit on most, is notably accurate."