I'm loving Robbie's Angels, says Ed Miliband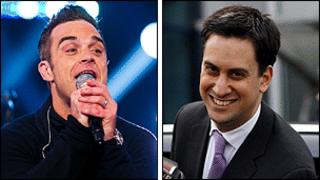 Labour leader Ed Miliband has revealed that Angels by Robbie Williams is the song that lights his romantic fire.
He said he and partner Justine Thornton sang along to the hit ballad "at the top of our voices" while driving.
Mr Miliband's married Labour colleagues Ed Balls and Yvette Cooper go for Elvis Presley's Can't Help Falling in Love.
Tory Education Secretary Michael Gove opts for the more upbeat Bring Me Sunshine by Morecambe and Wise, the Times newspaper reports.
The politicians are among a host of famous couples who outlined their favourite love songs for Valentine's Day.
'Only with each other'
There has been Westminster speculation that Mr Miliband will propose to Ms Thornton, a barrister and mother to their two children, soon, perhaps even choosing the most romantic day of the year to pop the question.
The Labour leader said recently that he would marry eventually, but added: "The more people challenge me on it from a political standpoint, the more resistant I will become."
In the Times, Mr Miliband reveals that Angels, whose lyrics include "I sit and wait" and "I know that life won't break me", is "always in the CD player in the car when we get away for a weekend together".
He adds that, unlike Italian Prime Minister Silvio Berlusconi, a former cruise ship crooner who released an album of love songs last year, his and Ms Thornton's singing along to Mr Williams is "something we should really only share with each other".
Mr Balls, the shadow chancellor, and Ms Cooper, the shadow home secretary, recall that their romance blossomed in the mid-1990s when they used to drive home from Westminster together in his Renault 5 automatic.
They would serenade one another to the lines of Mr Presley's Can't Help Falling in Love, culminating their performance by harmonising the word "love".
Mr Gove and his wife, Times columnist Sarah Vine, are altogether less outwardly emotional in their choice.
She says the light-hearted Bring Me Sunshine, the theme tune to the Morecambe and Wise Show, "encapsulates everything there is to say about our relationship".
Ms Vine says that, at parties, "we are in many ways a lot like Eric and Ernie - the one standing seriously (Michael) while the other (me) does a little show-off jig (although neither of us smokes a pipe in bed: not yet anyway)".