Ex-MP Jim Devine 'chose not to claim more' on expenses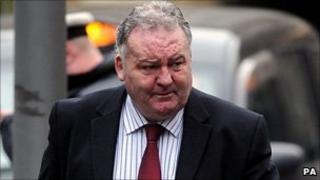 Jurors trying former MP Jim Devine over his expenses have been told he was "unlikely" to have become a criminal over claims of just £180 a month.
Summing up for the defence, Gavin Millar QC said he could have "flipped" the properties he claimed expenses on instead to claim thousands more.
Mr Devine, 57, denies three charges of false accounting over £8,745 of claims.
The jury has been sent home for the night and will continue deliberating its verdict on Thursday.
Mr Devine has already told the trial that he could have saved more than £20,000 if he had "flipped" the property he chose to claim expenses on - as he says he was advised to by expenses officials shortly after becoming an MP. He says he chose not to take the advice.
Summing up for the defence, Mr Millar told jurors Mr Devine did not want special treatment but nor should the standard of honesty be higher "because he was an MP" .
Mr Millar said the first count against Devine relates to claims he made for cleaning in July 2008, almost three years after he became an MP.
"The Crown have not alleged any criminality before. Why did Mr Devine suddenly become a criminal three years into his parliamentary career?," he asked.
Cleaning claims
The barrister went through the three counts of false accounting faced by Devine, and said jurors should acquit Mr Devine on all three.
The first count relates to two invoices from Tom O'Donnell Hygiene and Cleaning of £180 each. The second refers to three other invoices on Tom O'Donnell headed paper for £360, £360 and £2,160 - the claims for cleaning were all made between July 2008 and May 2009.
The third count alleges that between March 2009 and April 2009, Mr Devine dishonestly claimed £5,505 for stationery from Armstrong Printing Limited using two false invoices.
Tom O'Donnell said he had given Mr Devine one blank invoice, which the former MP is alleged to have photocopied and used to make further claims for work that was not carried out by Mr O'Donnell's company.
But Mr Millar urged jurors to reject his evidence and said the first two receipts for £180 were filled out by Mr O'Donnell or a cleaner employed by him.
The invoices in the second count had been filled out by a group of cleaning workers, Mr Millar said.
Mr Devine argues that he paid a Polish cleaner £40 cash-in-hand on an "ad hoc basis" between 2006 and 2008 - he says she "ran for the hills" after he was charged and he had been unable to contact her.
'Miss X'
Mr Millar said the prosecution claimed Mr Devine asked someone to fraudulently fill in the blank invoices, so he could make false claims to help clear his overdraft adding: "Doesn't this get unlikelier and unlikelier with each new accomplice?"
He added: "Why would Mr Devine go to the lengths of photocopying a blank invoice and persuading someone to write a lie on it for £180?
"The crown can't have their cake and eat it. Either he wanted to get rid of his overdraft of thousands and thousands of pounds or he didn't.
"£180 is hardly going to make a difference."
On the third charge, Mr Millar said Mr Devine had a problem with his staffing budget and was advised by a fellow MP that he could transfer money from his communication allowance, from which he made the printing claims, to cover his staffing costs.
Mr Devine says he employed a woman known as "Miss X" during the trial because he refused to name her, and was still paying his former office manager who was on sick leave.
The MP named by Mr Devine - Birmingham Sellyoak MP Steve McCabe - told the trial that conversation never took place.
But Mr Millar said that was unsurprising.
"MPs have had enough of the expenses scandal," he said.
"Those that have survived it want to distance themselves as much as possible. That includes distancing themselves from Jim Devine."
The prosecution says Mr Devine was often overdrawn and made the claims to benefit himself, with a "cavalier disregard" for public money.
The prosecution's case is that the cleaner Mr Devine says he paid, and the staff member that he says received the money he claimed for printing, do not exist and Mr Devine made the claims to reduce his debts.
Prosecutor Peter Wright QC told jurors on Tuesday: "What he was engaged in was dishonest. It was fraud on the public purse and he knew it.
"It was a fraud that started out small and once he was satisfied that he could get away with it, it got even greater.
"£180 became £360. And then after that, £2,400, then £3,105."