Michael Gove reprimanded for 'rank hypocrisy' jibe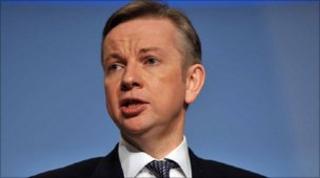 Education Secretary Michael Gove has been reprimanded for "unparliamentary" language in the Commons.
Speaker John Bercow was asked to rule on whether Mr Gove was allowed to use the phrase "rank hypocrisy" to refer to Labour MPs.
Labour's Kevin Brennan said, if it was allowed, his party would like to use it more to refer to the government.
The Speaker said using it to describe what an MP had said was unparliamentary "and should be withdrawn".
Mr Gove made the remark in the Commons on Monday, as his Labour shadow Andy Burnham criticised the introduction of an English Baccalaureate of core subjects at GCSE.
Mr Burnham told him it had a "narrow selection" of subjects and children should be learning more vocational courses.
"Are you really saying to young people and employers today that dead languages are more important than business studies, engineering, ICT, music and RE?," he said.
Mr Gove replied: "I am surprised you have the brass neck to stand here and say working-class children shouldn't study modern foreign languages, shouldn't study science, shouldn't study history and shouldn't study geography.
"If it is good enough for you, why shouldn't it be good enough for the likes of working class children elsewhere? Why are you pulling up the draw bridge on social mobility?... It's rank hypocrisy."
Certain types of language are banned in Parliament, terms of abuse that have been ruled as out of order include coward, hooligan, rat and traitor.
The Speaker asks MPs who use unparliamentary language to withdraw it - if they refuse they can be suspended for five sitting days.