Ex-MP Devine 'feared running out of money for staff'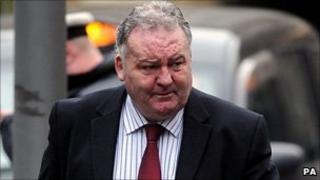 A former Labour MP on trial over his expenses has told jurors he thought he was going to run out of money to pay his staff.
Jim Devine told Southwark Crown Court a dispute with his office manager - who went off sick but was still being paid - was a "major drain on my staffing".
The ex-Livingston MP says he was advised that he could use money from another allowance to cover staff costs.
He denies two charges of false accounting over £8,745 of claims.
Giving evidence at Southwark Crown Court Mr Devine said he had a dispute with his former office manager, who he said had paid herself a bonus and overtime totalling more than £5,000 out of his staffing expenses, without his knowledge.
He said when she realised he had discovered the payments she went off on sick leave for "about six months" but was still being paid. Mr Devine said she was eventually suspended in March 2008 - she later took him to an employment tribunal.
Mr Devine denies two charges of false accounting relating to £3,240 of claims for cleaning services made between July 2008 and May 2009, and £5,505 claimed for stationery between March and April 2009.
The defence says that he was advised by fellow Labour MPs that he could make claims on his communications allowance - under which he claimed for the stationery - to cover staff costs.
'Serious difficulty'
Mr Devine said he tried to get a one-off payment from the House of Commons Fees Office - which processed allowances claims - to cover the money he was still paying to his former office manager, which amounted to between £17,000 and £18,000.
"It was a major drain on my staffing," he said.
"I thought I was going to be in serious difficulty - I thought I was going to run out of money."
Mr Devine said no-one mentioned to him that he may have been entitled to a temporary secretarial allowance to meet his wage bills.
He said he was advised he could move money from one allowance to the other - and use money claimed for printing from his communications allowance to fill the gap in his staffing budget.
Mr Devine said he remembered being advised by his then colleague Steve McCabe, who he said asked him "with a nod and a wink": "Do you know a friendly printer?"
Mr Devine said he went on to call Armstrong Printers, where he had an account, from the Commons Fees Office to ask them to mark a receipt "received with thanks", giving the impression the order had been paid for.
The former backbencher said he had sat opposite a clerk who heard what he was saying and did not say he was doing anything wrong.
On Friday Mr McCabe denied having the conversation with Mr Devine.
The prosecution says Mr Devine submitted five forms for cleaning work that was never carried out but Mr Devine told the trial his flat was cleaned once or twice a month by a Polish cleaner called Larissa.
He said he was put in touch with her by the landlord of his local pub - who also ran a cleaning business -and paid her "£40 cash in hand" on an "ad hoc basis" between 2006 and 2008.
He said he did not claim the money back initially because he did not know he could - later he asked whether he could make back-dated claims.
He said the total he could have claimed was between £1,000 and £2,000 but he came to the figure of £1,000 with the landlord, Tom O'Donnell, after speaking to other MPs about what they charged.
He and Mr O'Donnell agreed to divide the invoices into three sums of £540, £180 and £180, he said.
Earlier Detective Inspector Matthew Gibbs told the trial that police had not been able to trace Larissa. Mr Devine said when he was charged she "ran for the hills" and he could not contact her.
Defence lawyer Gavin Millar QC pointed out the prosecution had been saying that one of the printing claims had been sufficient to wipe out Mr Devine's overdraft. The former MP said he had been overdrawn since he was 17: "Anyone that's ever known me knows that money has never been a motivation for me."
Mr Devine's former colleague, and friend, David Hamilton MP also gave evidence in which he said he had been concerned about the stress the allegations were having on him.
Mr Hamilton, the MP for Midlothian who was made a whip after the 2010 election, told jurors: "I made a point of trying to make sure he is OK. I keep in regular contact.
"I was worried he was going into a dark place."
He said he could not recall the alleged conversation between Mr Devine, Mr McCabe and another Labour MP Tom Watson about using the communications allowance to cover staffing costs.
Mr Watson and Mr McCabe have denied the conversation, in the Commons Strangers Bar in 2008, took place.
The trial continues.