Councils to be told to identify staff earning £58,200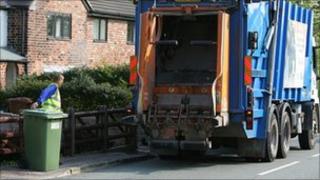 Local councils and other public bodies in England would have to identify all staff earning £58,200 or more under plans proposed by Eric Pickles.
The local government secretary included it among proposals being put out for consultation - although staff could decline to have their name published.
Councils will also be expected to publish organisational charts.
Mr Pickles said taxpayers had "a right to look under the bonnet... and see where their money is being spent".
The consultation, which runs until 14 March, says "for democratic accountability to increase, local people need to be able to hold local authorities to account... transparency is the foundation of this accountability".
Councils in England had already been told to publish all items of spending over £500 online by the end of last month.
But they had been "challenged to go further" by giving easy access to data to salaries, expenses, and performance data.
The consultation says the government's "preference" is for the £58,200 threshold - the starting salary for senior civil servants - to apply to disclosure of salaries in local authorities.
"This is intended to increase accountability and ensure salaries are consistent with level of responsibility."
'Maze of middle management'
As well as local councils the code would also cover parish councils, national park authorities, Transport for London, police and fire authorities and waste authorities.
In a statement to launch the consultation Mr Pickles said: "The taxpayer has a right to look under the bonnet of their Town Hall and see what decisions are being made on their behalf and where their money is being spent.
"I asked all councils to put online everything they spend over £500 and I commend the majority who have had the good sense to lead this transformation in transparency. Today I'm publishing a new code that will help decipher the Town Hall maze of middle management, bringing more public information to light. This will also give the few remaining refuseniks a clear game plan to follow.
"Transparency must be the underlying principle behind everything councils do. Every aspect of council business should be open to public scrutiny including senior pay, councillor expenses, local services and voluntary sector funding.
"This can help save money in tough times, protecting the front line by cutting waste and unnecessary costs."