David Cameron says major tax cuts not possible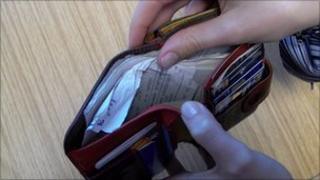 "Significant" tax cuts will be ruled out while the government is cutting spending to address the deficit, David Cameron has said.
The prime minister told the Sunday Telegraph he wanted to offer people "relief", but suggested it could only happen "at the end of this hard road".
Chancellor George Osborne is facing pressure from Tory MPs to reduce the tax burden on voters.
He is reportedly considering a new tax levy on "non doms" for the next Budget.
Mr Cameron, in an interview ahead of the March Budget, insisted there was no "Plan B" on the coalition's deficit reduction strategy and said tax cuts would only undo the work of curbs in public spending.
But he said the government was protecting the poorest and lifting tens of thousands out of tax altogether by changing tax thresholds.
"I would love to see tax reductions. I'm a tax-cutting Tory and I believe in tax cuts, but when you're borrowing 11% of your GDP, it's not possible to make significant net tax cuts. It just isn't," he said.
"It's no good saying we're going to deal with the deficit by cutting spending, but then we're going to make things worse again by cutting taxes. I'm afraid it doesn't add up."
He added: "Do I want to see, at the end of this hard road, relief and lower taxes for hard working people? Yes I do."
London Mayor Boris Johnson recently called for the government to set out "a clear direction of travel" on reducing taxes in this Parliament.
And the head of the Conservative Party's backbench economic affairs committee, John Redwood, is pressing Mr Osborne to cut capital gains tax and to begin reducing the top rate of tax down to 40p.
'Tax loophole"
The Sunday Times reported that the chancellor's possible new "non doms" levy - which could be announced in time for the Budget - would help fund the coalition's commitment to raise the income tax threshold to £10,000.
Former Prime Minister Gordon Brown introduced a £30,000 annual charge on "non doms" - people who are resident in the UK but not domiciled in the UK for tax purposes. Although they will pay some UK tax, they will not be fully taxed in the UK on their interests overseas.
People who have been resident in the UK for seven of the previous 10 years but are non-domiciled for tax purposes are liable to pay the charge.
The Sunday Times reported that Treasury documents showed that four out of five of the UK's 120,000 "non-doms" do not pay the levy, as they leave within seven years.
Options to increase income from "non-doms" would be to impose the levy earlier or to impose a tax on overseas earnings after that period.
The coalition agreement promised a review of taxation paid by "non-doms".
Lib Dems have been pushing for the issue to be tackled swiftly so that tax revenues from any change can be maximised during the years that cuts are being implemented.
Lord Oakeshott, a Lib Dem Treasury spokesman, said "non-dom" status was the "biggest tax loophole in Britain".
"The £30,000 non-dom poll tax is a joke - it's only the tip they give the waitress after drinks in the directors' box at Chelsea or Manchester City," he said.
The Lib Dem Energy and Climate Change Secretary Chris Huhne told Sky News the government needed to clamp down on those who avoid paying tax.
"I think we need to get tougher and rougher with some of the off-shore tax havens and there has been progress on that," he said.
From April, 500,000 people are expected to stop paying income tax altogether when the income tax threshold is initially raised to £7,475.
At the same time some 750,000 people are set to become higher-rate taxpayers in April, according to estimates from the Institute for Fiscal Studies.
The threshold for the higher-rate 40% income tax rate will be £35,001 of taxable income from April, compared with £37,401 this financial year.