Speaker's wife Sally Bercow shrugs off bed sheet row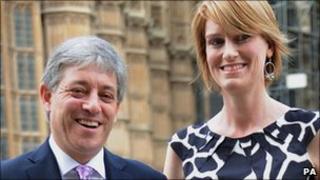 Commons Speaker's wife Sally Bercow has told the BBC she was "a fool" to agree to pose in a bed sheet for a newspaper but dismissed it as "harmless fun".
She said there had been a "storm in a bedsheet" over her Evening Standard interview in which she said her husband's job meant women "hit on" him.
She added that the photo was "quite tasteful".
But some Tory MPs have been critical - one suggested Mrs Bercow saw herself as the "first lady" of British politics.
The Speaker is the chief officer of the Commons and chairs debates. He must remain politically impartial.
Mrs Bercow's interview, printed on Thursday and accompanied by a picture of her wearing only a bedsheet in a hotel room overlooking Parliament, has raised eyebrows in Westminster.
She told BBC Radio 5 Live it had been intended as a "bit of harmless fun", adding: "I'm a bit surprised at the storm that it's caused.
"Obviously it has completely backfired on me and I look a complete idiot... I didn't think through the implications."
'Dignity of office'
She said: "I actually think it's quite a tasteful photograph as I say, it was all meant to be a bit of harmless fun. But the trouble is because I'm married to the Speaker, whatever I do is put in the media and used against him."
The Conservative Children's Minister Tim Loughton wrote on his Twitter page: "Someone needs to tell Mrs Speaker Bercow not just to shut up but to cover up as well."
And former Tory MP Ann Widdecombe criticised the article, telling the BBC: "She isn't contributing to the dignity of the office, he's detached from the Commons, detached from party politics, above it all - and people don't want to sit there looking at him wondering what's happening in his private life."
But Mrs Bercow said: "Well sorry, but I'm not the Speaker, my husband is and fortunately he doesn't view my main role in life to support him.
"I just think it's a storm in a bedsheet."
She said she was not the sort of wife who "who walks dutifully three paces behind my husband and keeps her mouth shut".
"I'm a personality, I've got ambitions of my own and it was just meant to be a bit of fun... My husband's not exactly thrilled about it, but he's pretty cool really."
But she added: "I was a fool really to agree to be photographed in a sheet, I didn't really think through the implications, I didn't know I was going to be photographed in a sheet until I got there."
The Bercows and their three children live in an official residence within the Palace of Westminster.
'Not jealous'
In the Evening Standard article she said the view from the Speaker's House was "incredibly sexy", and said power could be an aphrodisiac: "Since John became Speaker, the number of women who hit on him has gone up dramatically. I don't get jealous because more men have hit on me, too."
Later she took to the microblogging website Twitter to say she had been "done up like a kipper" and the piece had been intended as a wider Valentine's Day feature for the newspaper's weekly magazine.
Mr Bercow took over as Speaker in 2009 following Michael Martin's resignation over criticism of his handling of the expenses scandal.
But some of his former colleagues on the Conservative benches were unhappy that he got the job and, since taking up the role, he has had run-ins with several of them.
Tory MPs contacted by the BBC on Friday criticised the interview, but did not want to be named.
A senior Conservative backbencher accused Mrs Bercow of seeing herself as the "first lady" of British politics and, in a reference to the former president and first lady of the Philippines, said the couple were the Marcoses of British politics.
Of Mr Bercow, the MP told the BBC: "If he can't have some influence over his wife's behaviour, then how does he expect to have influence over the behaviour of 600-odd MPs?"
And a female Tory MP said people expected "gravitas" from Parliament: "It's disgusting. It's an affront. Sally Bercow is a nice individual but she needs to grow up and realise she's the wife of the Speaker. The writing is clearly on the wall for John Bercow."