Labour MPs deny advising Jim Devine over expenses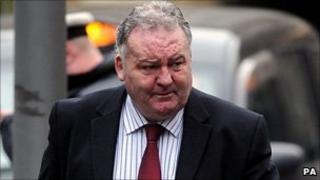 Two Labour MPs have denied advising a colleague on trial over his expenses that he could make claims from one allowance to cover staffing costs.
Tom Watson and Steve McCabe told Southwark Crown Court they had not had such a discussion with Jim Devine in a House of Commons' bar in 2008.
Mr Watson told the court he hardly knew Mr Devine and was "taken aback" by the defence's suggestion.
Ex-Labour MP for Livingston Mr Devine denies two charges of false accounting.
The 57-year-old, of Bathgate, West Lothian, is accused of making dishonest claims amounting to £8,745 for stationery and cleaning.
On Friday, two of his former colleagues on the Labour benches gave evidence to the trial and denied advising Mr Devine that he could make claims on his communications allowance to pay for staff.
Mr Watson told the trial he was surprised to be called as a witness: "I don't know what I'm doing here, if I'm honest, I hardly know Jim Devine."
'Taken aback'
The MP for West Bromwich East told jurors Mr Devine had been a "parliamentary colleague" but added: "I was a minister for a long time and he was a backbencher, so we didn't meet often and never did I socialise with him, so I hardly know him."
Asked if he had a conversation about expenses with Mr Devine in the Strangers Bar around Christmas 2008, he said: "Jim was in there quite a lot, but I don't recall going with him to the Strangers Bar.
"I was slightly taken aback when I saw the defence statement suggesting I did that. I have absolutely no recollection of any conversation that took place."
Asked if he had told Mr Devine he could use money from his communications allowance to fund staffing costs, he replied: "No."
Mr McCabe, the MP for Birmingham Selly Oak, said he knew Mr Devine from when he was a member of a team sent by Labour to help win the 2005 Livingston by-election which followed the death of Robin Cook.
He also denied having the conversation in Strangers Bar and said he would have advised any colleague to ask the Commons Fees Office about expenses matters.
'Quite merry'
For the defence, Gavin Millar QC told Mr McCabe what Mr Devine remembered about the evening in question in December 2008.
He said: "His recollection is you had been to some sort of do in the afternoon or early evening, and you were quite merry."
Mr McCabe denied that, saying he had been ill at the time, so was unlikely to have been drinking alcohol.
The defence lawyer said his client remembered mentioning to Mr McCabe that he was having problems meeting his staffing cost because he was being taken to an employment tribunal.
Employment tribunal
Mr Millar suggested Mr McCabe told Mr Devine that he could transfer some money from his communications allowance: "You suggested he could do that if he got a 'friendly printer' who could give him a receipt."
The MP denied he said that.
The trial has already been told that Mr Devine asked for his printing company to mark two invoices to indicate he had paid for orders, which were never completed or paid for.
Prosecutor Peter Wright QC told the court Mr Devine had "encountered problems with a member of his staff, Marion Kinley. That had resulted in him suspending her".
He told jurors Ms Kinley would have continued to be paid during her suspension - but that would not have come from Mr Devine's pocket, the Fees Office would continue to pay her.
Terry Bird, the Commons' director of operations of resources from September 2004 to March 2005, said if Mr Devine had difficulty paying for temporary staff, his clerks would have advised him he may have been eligible for a temporary secretarial allowance.
During cross-examination, defence lawyer Mr Millar said his client had taken advice from a member of the fees office called Andy Gibson.
Gibson has since been convicted for obtaining money by deception while he was processing expense claims and was jailed in September last year for nine months.
The trial was adjourned to Monday.