Cuts hit civil servants' morale, think tank suggests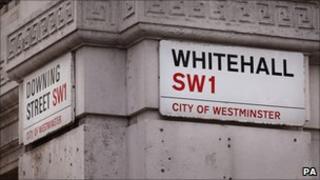 Morale among civil servants fell as a result of last autumn's government Spending Review, an analysis of the official staff survey suggests.
The Institute for Government, led by former Labour cabinet minister Lord Adonis, said Whitehall needed a "clear vision" to reverse the change.
Its analysis, based on a poll of 325,000 workers, found morale down in 16 of 17 major departments.
But the government said it was committed to supporting staff.
The first civil service-wide staff survey was carried out in 2009. The second was conducted at around the time of last October's Spending Review, which outlined the government's spending cut plans.
'Managed well?'
The institute's analysis found all major departments, except the Ministry of Justice and Department for Transport, had seen a reported fall in "employee engagement".
Departments facing large-scale upheavals - including health and education - had seen the biggest declines in positivity among staff.
The Department for Communities and Local Government had experienced the biggest fall in the proportion of staff agreeing that "my department as a whole is managed well".
The highest employee engagement rating was at the Department for International Development, which has had its funding ring-fenced.
Julian McCrae, director of research at the Institute for Government, said: "Whitehall is facing an unprecedented challenge in overseeing an ambitious agenda for reform at the same time as facing major cutbacks in spending.
"Most departments are also having to reduce their own administrative costs by a third. Falls in staff engagement levels are not unusual as organisations start tackling challenges on this scale. The important thing is for departments to have a clear vision and effective leadership, so any falls are rapidly turned around."
A Cabinet Office spokesman said: "Effective employee engagement has a crucial role to play in improving performance, driving efficiency and cutting sickness absence rates.
"This government is committed to supporting the civil service in focusing on the challenges ahead: delivering high-quality advice to government and helping deliver world-class public services.
"This survey, the largest in the UK, helps us do just that by understanding what really motivates our workforce and by making the right management decisions in order to get the very best from our people."