Children's TV is in crisis, says Floella Benjamin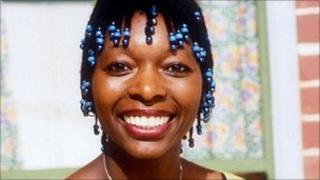 Former Play School presenter Floella Benjamin has urged ministers and broadcasters to "wake up" to a "crisis" in children's programming.
The Liberal Democrat peer warned against too much "passive viewing", arguing that TV shows should not become a form of "surrogate parenting".
Baroness Benjamin told the House of Lords that the BBC's Play School had added to children's well-being.
The pre-school programme ran from 1964 to 1982.
Lady Benjamin said Play School, also presented by Brian Cant and Johnny Ball among others and featuring characters such as Humpty and Big Ted, had engaged children's attention.
Too many modern offerings encouraged "passive viewing and are used as surrogate parents or baby-sitters".
'Wake up'
During a debate on parenting, she added: "Programmes like these should be banned, especially if television sets are in children's bedrooms. In fact, I would ban all television and computers in children's bedrooms."
The production of good quality television was "under threat" and children were becoming more exposed to programmes which "subtract rather than add to their overall well-being".
Lady Benjamin told peers: "Appropriate children's television is beneficial to childhood development.
"It can improve attention, expressive language, comprehension, articulation, general knowledge as well as social interaction and life skills.
"So I urge the government and broadcasters to wake up to the crisis in the production and quality of public service broadcasting for children.
"I ask the government to find creative ways of funding to maintain the traditional well-made British pre-school programmes which contain all the necessary and essential elements required for our children's well-being."
Well-made shows could help parents to "develop educational and stimulating techniques to use when interacting with their children".
Play School was remembered "fondly" because the producer "put children's well-being at the heart of the programme", she said.
She added: "Many parents do not have as much time to spend with their children as they would like. However, high-quality television and radio can be an ally, allowing parents to let their children watch and listen, safe in the knowledge that they are benefiting from the content."
Born in Trinidad, Lady Benjamin's family emigrated to the UK when she was 10.
She hosted children's television shows including Play School and Play Away and was awarded an OBE for services to broadcasting in 2001.
She has also served as chairman of Bafta Television and, in 2006, became Chancellor of the University of Exeter.
Ennobled last summer, her full title is Baroness Benjamin, of Beckenham in the County of Kent.
* Lady Benjamin was speaking during Lord Northbourne's debate on "the role of good early parenting in preparing a child for success in school".
In an online pilot with the BBC's Have Your Say, he took part in a webchat, to respond to readers' comments and questions about children's early years and success at school.
You can continue to contribute to the discussion at BBC Have Your Say's online forum.