Speaker's job makes John Bercow sexier, says wife Sally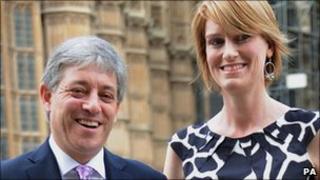 Commons Speaker John Bercow has become more sexually attractive since taking on the job, with more women trying to "hit on" him, wife Sally has said.
Mrs Bercow told the London Evening Standard that power was an "aphrodisiac", adding that she had also gained more attention from men.
Pictured wearing only a sheet, Mrs Bercow said it was "sexy" living in an official residence near Big Ben.
It was "hilarious" to be called "the Carla Bruni" of UK politics, she added.
Shortly after the article and picture were published on the front page of the newspaper the 41-year-old Labour activist appeared to backtrack on her comments.
She wrote on Twitter: "It was meant to be a Valentine thing / bit of fun for ES Magazine (the newspaper's weekly magazine). Part of a bigger feature."
'John is John'
She went on: "dies of embarrassment... I've been done up like a kipper. Mr B is going to go potty."
Asked if David Cameron had confidence in the Speaker following Mrs Bercow's interview, the prime minister's official spokesman said: "Clearly the PM and Mrs Bercow have different relationships with the Speaker. The Speaker is the Speaker."
Mrs Bercow has been outspoken in defence of her husband since he took over the Speakership in 2009, following Michael Martin's resignation over criticism of his handling of the MPs' expenses scandal.
In the article, she ruminates on the effect the job has had on him, saying: "Politicians as a breed aren't particularly sexy but I think politics can be sexy because power is an aphrodisiac.
"Since John became Speaker, the number of women who hit on him has gone up dramatically. I don't get jealous because more men have hit on me, too.
"I think it's hilarious that I have been referred to as the Carla Bruni of British politics."
The Bercows and their three children live in an official residence within the Palace of Westminster.
Mrs Bercow told the Standard: "The view from Speakers House is incredibly sexy, particularly at night with the moon and the glow from the old gas lamps.
"When John and I were first courting we used to walk along the South Bank and look at the Houses of Parliament. I never realised how sexy I would find living under Big Ben with the bells chiming."
Former Conservative minister Ann Widdecombe, who was beaten to the Speaker's job by Mr Bercow, told BBC 5 live: "One is almost inclined to say 'Who needs enemies when you have got a wife like that?'"
She added: "She isn't contributing to the dignity of the office, and the essence of the Speaker's job is dignity. He is detached from the Commons and party politics - above it all - and supposed to be a very dignified individual.
"People don't want to sit there looking at him, wondering what's going on in his private life."
Mr Bercow made a sartorial statement when taking on the job, ditching the traditional breeches and tights in favour of a lounge suit, as he searched for a more informal style while officiating during Commons debates.
But recently several of his former Conservative colleagues have criticised him.
Senior backbencher Mark Pritchard apologised last month after swearing at Mr Bercow during an altercation in the Palace of Westminster. He also had a run-in with Tory chief whip Patrick McLoughlin and was insulted in the chamber by health minister Simon Burns
Mrs Bercow, who ran unsuccessfully for Labour in last year's council elections, has defended her husband from criticism, claiming he is a friend to MPs.