Profile: Craig Oliver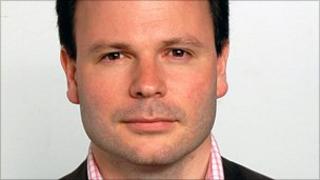 Craig Oliver, who has been selected to replace Andy Coulson as David Cameron's communications chief, has worked in broadcasting for almost two decades.
The 41-year-old has resigned from his job as controller of English services at BBC Global News.
In this role he was responsible for the World Service, BBC World News and the News website outside the UK.
There had been wide speculation about who would replace Mr Coulson, a former editor of the News of the World, in Downing Street.
Many high-profile journalists were mentioned by commentators, but Mr Cameron appears to have opted for a more backroom figure rather than a household name following the embarrassment caused by the ongoing saga over phone-hacking at Mr Coulson's old newspaper.
When news of the appointment broke, it came as a complete surprise to many as his name had not been mentioned in any of the lists of possible candidates put together by media commentators.
The son of a former chief constable of Grampian police, Mr Oliver was educated at a Scottish state school before studying at St Andrews University and then completing a broadcast diploma at the Cardiff School of Journalism.
He started his media career as a cub reporter at STV in Scotland where footage still survives of one of his early reports from 1992.
The following year he joined ITN on a training scheme before becoming a producer on ITV's News at Ten.
He was later appointed programme editor when Channel Five launched its news service in 1997 and returned to ITV News as senior programme editor of the early evening news programme in 1999.
After a spell at Channel 4 News in 2002, Mr Oliver returned to ITV News in 2003 as head of output and then as head of network news programmes.
He took on his latest BBC role in April last year, having previously edited the Six O'Clock News and Ten O'Clock News.
Mr Oliver also oversaw the BBC's results coverage for last year's general election and was involved in preparing plans, announced in January, for cuts to the BBC World Service.
The were announced just days before news of Mr Oliver's departure broke.
Staff were told that up to 650 jobs would be lost from a workforce of 2,400 over the next three years in a bid to save £46m a year.
Mr Oliver is married to Joanna Gosling, a presenter on the BBC News Channel, with whom he has three daughters.
Profile is on BBC Radio 4 on Saturday 05 February at 1900 GMT; Sunday 06 February at 0545 (FM only) and 1740 GMT. Listen again via the BBC iPlayer or download the podcast.