Big Society tsar Lord Wei reduces hours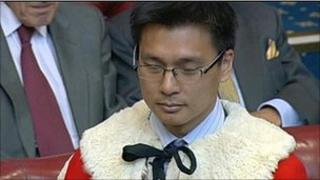 The man in charge of implementing David Cameron's Big Society plan has returned to working his "agreed hours", the government has said.
Lord Wei, who is unpaid, had been doing overtime as he got the scheme, aimed at encouraging more community volunteering, started.
The former management consultant is reported as saying he wants to earn money and have "more of a life".
But a government spokesman said Lord Wei's designated role had not changed.
The peer is contracted to work two days a week, but with the hours spread over three days.
'Committed'
Lord Wei of Shoreditch, who sits on the Tory benches, was a member of Teach First's founding staff team, a charity which trains successful graduates for a career in inner-city teaching.
Nicknamed the "Big Society tsar", he was appointed as a government adviser last year and was later ennobled.
A Cabinet Office spokesman said: "Lord Wei has often worked more than his set hours to meet the demands of early policy development.
"As Big Society policy develops he expects to be able to stick to his agreed hours which have not changed.
"The government remains committed to devolving power to citizens and supporting a Big Society."
The Guardian reports that Lord Wei told friends he wanted to increase his earnings and have more time for outside interests.
But the Cabinet Office spokesman said it was "not true" that he was cutting back his government work.