UK and US call for an 'orderly transition' in Egypt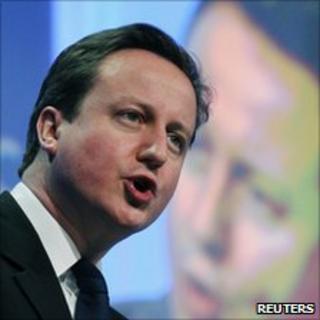 Prime Minister David Cameron has issued a joint call with US President Barack Obama for an "orderly transition" to a democratic government in Egypt.
The leaders agreed a "comprehensive process of political reform" was needed, rather than repression.
Foreign Office minister Alistair Burt said the unrest in Egypt, now in its seventh day, was "unprecedented" in recent years in its scale.
Demonstrators are demanding President Hosni Mubarak's resignation.
The UK and US leaders discussed the situation in the north African country on Sunday night.
Mr Cameron told the BBC: "I think they must go down the path of reform and not repression."
'Wrong choice'
He said: "I have spoken to President Mubarak and had a conversation with President Obama last night, and we were very much agreed that we want the response of the Egyptian government to be that there needs to be a proper orderly transition to a more democratic situation, where there are greater rights, greater freedoms, better rule of law and that sort of reform, to show to people in Egypt that their concerns and their aspirations are being listened to.
"It is very important that, whether it is President Obama or me, we are not saying who should run this country or that country.
"But I think in the conversations we have with President Mubarak and others it is sensible to say 'You do have a choice here. This repression, if you opt for that, that will end badly for Egypt, badly for the world. It is the wrong choice'."
In a Commons statement, Mr Burt said: "The scale of these protests is unprecedented over the last 30 years."
He added: "It's not for us to decide who governs Egypt."
However, any regime in power should "reflect the wishes of the Egyptian people".
For Labour, shadow Foreign Office minister Stephen Twigg backed the government's position, calling President Mubarak's curtailing of the internet and broadcast media "a disturbing feature" of the past few days.
Mr Cameron spoke to King Abdullah of Jordan on Sunday about the ongoing violence, amid fears that extremists could try to exploit the situation.
He has already held discussions with President Mubarak, who has ruled Egypt for 30 years, to express his "grave concern" about violence against the anti-government dissidents.
Clashes are reported to have left at least 100 people dead since rallies began on Tuesday in cities including Cairo, Suez and Alexandria. Thousands more have been injured.
The Foreign Office upgraded its travel advice on Sunday, telling British nationals in Cairo, Alexandria and Suez to leave if it was safe for them to do so.
Foreign Secretary William Hague, attending an EU meeting in Brussels, said "We don't want Egypt to fall into the hands of extremists. That is why we want an orderly transition to free and fair elections, and greater freedom and democracy in Egypt.
"Then I think we need to rely on the good sense of the people of Egypt. Who they elect is their concern. If we are advocates of democracy, we have to respect how they go about it and who they elect."
The EU's foreign policy chief Lady Ashton, who chaired the talks, also called on Egypt to respect the rule of law and democracy, saying: "The legitimate grievances of the Egyptian people must be responded to as soon as possible. Their aspirations for a better future must be met."
Former UK Prime Minister Tony Blair, who is now a Middle East peace envoy, told Sky News: "What is inevitable is there's going to be change. The question is what change and how do you manage it...
"I've said for years, this is a region in transition. The question is where is it transiting to?
"It can transit to a concept of society and the economy and politics that is 21st century. Or it can be taken backwards into a very reactionary form of religious autocracy. We don't want that."