Rape crisis centres to get £10m, says Ken Clarke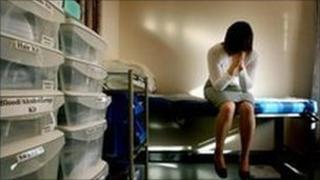 Centres providing support for rape victims in England and Wales are to get more than £10m from the government over the next three years.
The funding is part of a wider package of funding for victims' groups, worth nearly £30m.
The announcement was welcomed by campaigners, who said it would help prevent centres from closing.
Justice Secretary Ken Clarke said they provided vital services and promised more support for all crime victims.
He told BBC News: "It is important we give steadily more expert support to the victims of crime and don't just treat them as witnesses."
He said the government wanted to "make sure they get the help they need to come to terms with their bereavement or the consequences of a violent sexual attack or injury they may have suffered".
First step
Home Secretary Theresa May added that long-term funding for rape crisis centres was "a key element of the government's wider strategy to tackle violence against women and girls".
"We are absolutely committed to ensuring every victim of rape has access to the support that they need to rebuild their lives," she said.
Professor Liz Kelly, chairwoman of the End Violence Against Women Coalition, said the funding would help "stabilise the sector and prevent closures".
But she warned it was only a first step towards ensuring all women received the care and support to which they were entitled.
"We call on the government to make good its commitments on violence against women by ensuring adequate funding for all specialist women's services in the community, particularly services for black minority ethnic women, which continue to be chronically neglected and under-resourced," she said.
Prof Kelly said research in 2009 showed "nearly nine out of 10 local authorities in Britain did not have a rape crisis centre, leaving a significant number of women who have experienced sexual violence without essential care and support."