M&S's Sir Stuart Rose among UK's expert happiness panel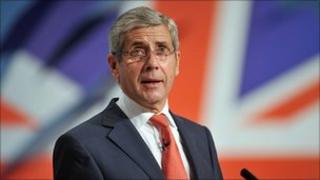 Former Marks & Spencer boss Sir Stuart Rose is to help the government gauge UK well-being, as part of David Cameron's project to measure "happiness".
He is joined on the panel by TV child behaviour expert Tanya Byron and Waitrose managing director Mark Price.
From April the government will ask people to rate their well-being, with the first happiness index due in 2012.
The prime minister has dismissed criticisms that the project is conceptually "woolly".
He insists that a measurement of psychological health, rather than just economic prosperity, is needed to judge people's overall well-being.
'Not spreadsheet'
A 44-member advisory panel gathered by the Office for National Statistics will look at the best way to achieve this, including finding the most reliable indicators of happiness.
Others taking part include Lord Stern, the economist who advised the previous government on the potential impact of climate change, and Enrico Giovannini, president of the Italian National Institute of Statistics.
The panel also includes Matthew Taylor, chief executive of the Royal Society of Arts and a former aide to Tony Blair, and Harvard economist Amartya Sen.
Mr Cameron first floated the idea of a "happiness index" in 2005, when he was running for the leadership of the Conservative Party, arguing that gross domestic product - the standard measure of economic activity used around the world - was no longer sufficient.
In a speech last November, he said: "You cannot capture happiness on a spreadsheet any more than you can bottle it - and if anyone was trying to reduce the whole spectrum of human happiness into one snapshot statistic I would be the first to roll my eyes."
Labour also attempted to measure quality of life when it was in power but then prime minister Tony Blair abandoned the idea, after it proved too difficult to pin down.
Sir Stuart stepped down as M&S chairman earlier this month, following six years with the company, the majority of the period as chief executive.