Iraq inquiry: Blair government failed on equipment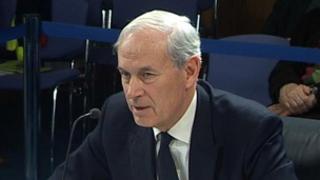 Tony Blair's government lacked coherence and failed to deliver on equipment in the Iraq war, the former head of UK armed forces has said.
Admiral Lord Boyce said the Treasury had to be "beaten over the head" to deliver on Mr Blair's cash promises.
And "half the cabinet" did not think the country was even at war.
He also dismissed claims in a secret document that the US had been promised an "armoured division" as early as May 2002 saying it was a misunderstanding.
Tony Blair has repeatedly told the Iraq inquiry that he never rejected any requests for equipment from the military in Iraq.
But Lord Boyce said that when the requests landed on the desk of then Chancellor Gordon Brown, "there was a brick wall" - and that had had an impact on the speed of preparations for war.
'Brick wall'
He said the Treasury had to be "beaten over the head" to release funds - but there was a general lack of coherence in government in the run up to the Iraq war and the earlier invasion of Afghanistan.
"There was no feeling that we had a war cabinet or, indeed, cabinet ministers who thought we were at war.
"I suspect if I had asked half the cabinet whether we were at war, they wouldn't know what I was talking about. So there was a lack of political cohesion at the very top. In Iraq's case, possibly because some people were not happy about what we were doing there anyway."
On Mr Blair's assurances about equipment, the former forces chief told the inquiry: "I know he says that but actually getting it delivered is quite a different matter altogether. Particularly on the money side. 'Don't worry, you can have everything you want. Go and see the chancellor.' Brick wall there."
He added: "The Treasury didn't think we were on a war footing."
He was also tackled about the latest declassified documents released by the Iraq inquiry.
One of the documents suggested a "UK official" had promised the Americans an "armoured division" in May 2002, at a time when the UK was still considering restricting any possible involvement in an invasion to air and sea forces.
And Prime Minister Tony Blair has insisted that although he had told President Bush to count on the UK for support in the event of war, the UK had not at that time decided to join military action.
'No comfort'
He said the Ministry of Defence had been unable to find the "UK officer" who made the 2002 troops pledge - and suggested that he may not have existed.
"Where this division on the table came from I have absolutely no idea," Lord Boyce told the inquiry.
"Whether the Americans jumped to that conclusion because we provided a division during Desert Storm in 1991, which I suspect could easily be the case, I don't know.
"No one had authority to make that offer down the MoD chain."
He added: "When this blew up, in the summer, at the MoD we were unable to find out who this person was so I don't believe there was such a person.
"I think it was an assumption that was made - 'Oh you will do what you did before when you went into Iraq, we can expect a division can't we?' - and that rhetorical question was never answered and it was then an assumption."
The Americans were given "no reason or comfort in that area" by anyone in authority on the UK side, he stressed.
The declassified document is from the office of then Defence Secretary Geoff Hoon to Lord Boyce's office, after foreign policy adviser Sir David Manning's visit to Washington on 17 May 2002.
It says: "The secretary of state was surprised and concerned to read the suggestion that a 'UK officer in Tampa' had indicated to the Administration that 'the UK would provide an armoured division' for action against Iraq."
In his evidence, Lord Boyce also stressed that a "military adventure" in Iraq was never part of the UK military's thinking in the immediate aftermath of the 11 September 2001 attacks and they only became involved in planning some time after Mr Blair's private meeting with US President George W Bush at his ranch in Crawford, Texas, in April 2002.