Planned curbs on council publicity flouts localism: MPs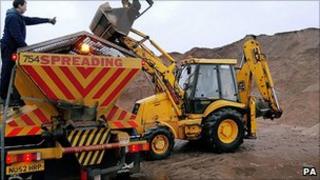 Efforts to crack down on councils using taxpayers' money to promote political interests could flout the coalition's "localism" agenda, MPs have said.
The Local Government Committee said they were concerned whether council newspapers and the use of lobbyists amounted to "propaganda on the rates".
But it said ministers should not be able to dictate how often councils published their own newspapers.
Ministers said the era of "town hall pravdas" must come to an end.
The government is proposing a new code governing the publication of council-produced newspapers and what information they can contain, amid concerns some are wasteful and politically-driven.
In a new report, the cross-party Commons committee said there were concerns that some councils were using public money to promote individual and policy achievements for party political ends.
Statutory information
"It is appropriate that the proposed code should prevent such activities being undertaken at taxpayers' expenses," the committee said.
It called for a review of the rules governing statutory notices in council newspapers and said the content of such newspapers must be directly related to services provided by councils and clearly identified as such.
It is urging ministers to launch an independent review of whether council-funded newspapers are providing unfair competition to commercial newspapers in their area.
While there were "isolated" examples of unfair competition, there was "scant" evidence that this was widespread, the MPs concluded.
But they suggested it would be counter-productive for ministers to stipulate how often council newspapers could be published - for instance quarterly - in context of the government's drive to devolve power locally.
"We doubt that the proposed code should specify a maximum frequency of publication," the committee said.
"In line with a commitment to local decision making, it should also be left to every local authority to choose for themselves how often they publish an information sheet.
"If properly enforced, we believe the provisions in the proposed code relating to cost effectiveness, content and appearance are sufficient to deal with the excesses in a handful of council papers that have caused concern."
'Undermining democracy'
While there should be regulation of the use of lobbyists by councils, the committee said it doubted whether the proposed code was the "correct tool" to restrain the practice and ministers should work with local government and other interested parties to develop a system based on "best practice" elsewhere in the public sector.
In particular, it wants greater clarity on whether councils will continue to be able to employ consultants to provide short-term expert advice.
Local government minister Grant Shapps said "few things have done more to undermine local democracy than the explosion in town hall pravdas bankrolled by hard pressed taxpayers".
"The murky practice of government lobbying government that has prospered in the last decade has had a corrosive effect on the public's trust in politicians," he added.
"The age of wasting taxpayers' cash on pet projects like local propaganda sheets or employing lobbyists to push a certain agenda is over."