A decision on future of RAF bases could be months away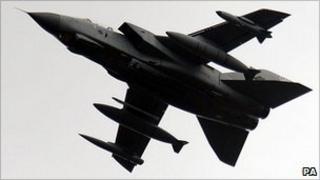 Decisions on the future of RAF bases across the UK may not be made until the summer, it has emerged
Armed Forces minister Nick Harvey told MPs a decision on which bases would close and which could potentially be used for other purposes may not be taken for several months.
Budget cuts announced in October's Spending Review are expected to result in the RAF leaving several premises.
Up to 5,000 RAF staff are expected to lose their jobs as part of the changes.
Ministers say the RAF estate has to be "rationalised" as part of an 8% annual reduction to the Ministry of Defence budget over the next four years.
RAF Kinloss is expected to close following the cancellation of the contract for Nimrod reconnaissance planes, while communities around bases such as Lossiemouth and Leuchars in Scotland, Marham in Norfolk and Lyneham in Wiltshire have expressed concerns about their future.
Speaking in a debate in Westminster Hall on the future of RAF Lyneham, Mr Harvey said: "We can anticipate that decisions will be made and announcements will be made before the summer recess."
MPs have been calling for bases in their constituencies to be retained in some form, arguing they are a key source of employment and a focal point for the community.
James Gray, MP for North Wiltshire, said accommodating British troops returning home from Germany between 2015 and 2020 at Lyneham could be a "neat solution" to secure its future.
On Tuesday, former Lib Dem leader Sir Menzies Campbell argued that the Leuchars base in his Fife constituency, which is home to the Typhoon and Tornado jets, should be saved.
"I believe that the case for the retention of RAF Leuchars is overwhelming. In short, Leuchars is in the right place at the right time and doing the right job," he told MPs.
The BBC's Political Correspondent Carole Walker said there was a possibility that potentially difficult decisions could be postponed until after May's local council polls in England and elections for the Scottish Parliament, the Welsh Assembly and the Northern Ireland Assembly.