Foreign Secretary William Hague visits Syria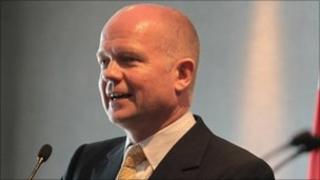 Foreign Secretary William Hague has arrived in Syria for a two-day visit.
Mr Hague will holds talks on Thursday with President Bashar al-Assad and Foreign Minister Walid Muallem.
The Foreign Office said Mr Hague would discuss a range of issues, including the Middle East peace process, Iran's nuclear programme and the political situation in Lebanon.
It is the first UK ministerial visit since Mr Hague's predecessor, David Miliband, visited Damascus in 2008.
It is not clear whether Mr Hague will discuss the situation in Tunisia following the uprising which led to the ousting of former President Zine al-Abidine Ben Ali and its repercussions for the region.
The tumult in Tunisia has sparked similar calls for political and economic change in Egypt and led to a crackdown by the authorities.
About 700 people have been arrested following two days of clashes throughout Egypt. Security sources said six people have been killed.
Before leaving for Syria, Mr Hague called on the authorities and protesters to show restraint and avoid violence.
In a statement, Mr Hague urged the Egyptian government to "listen to the concerns of those demonstrating and respects rights of freedom of assembly and expression".
In other engagements on the Syrian trip, Mr Hague will meet business leaders and figures from civil society.