Most speed cameras in England and Wales 'not working'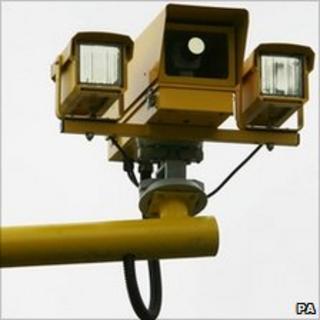 Fewer than half of fixed speed cameras are operational at any one time, making the chances of speeders getting caught a lottery, Which? magazine has said.
The consumer watchdog found 47% worked at any given moment in all 43 police authorities in England and Wales.
Its study also highlighted big regional differences, with all 60 cameras in Sussex working compared to just 10% of Lancashire's 287 sites.
Some 6,000 cameras have triggered an estimated £100m in fines since 1992.
Which? said most areas rotated the working part of their cameras at random or in response to speed levels or accident statistics.
Editor Martyn Hocking said: "Speed cameras in some areas are always operational, whereas in others there could be a one in 10 chance the camera you've passed isn't working. It really is a tale of two counties."
Accident figures
Police authorities were asked how many speed camera housings they had and how many were operational under a Freedom of Information Act request.
Dorset, Hertfordshire, Merseyside, Norfolk and Suffolk refused to answer, Durham said it used a single mobile camera, and Cleveland, North Yorkshire and Wiltshire also did not operate any fixed sites.
There were just a dozen fixed cameras in Cumbria compared to 263 housings in Staffordshire - although of those just 11% were operational. Of Avon and Somerset's 54 sites, 94% were working.
A Which? survey of 1,920 members was divided over whether speed cameras made the roads safer, with 47% saying they did and 45% disagreeing.
Almost a quarter of those surveyed had received a penalty notice for speeding.
Of these people, 48% paid more attention to driving within the speed limit following the fine, 39% were more cautious about their speed when near a camera and 18% did not change their driving.
Speed cameras were axed in Oxfordshire in July last year after the county council withdrew £600,000 in funding due to budget cuts.
The move angered some safety campaigners, but left others saying it would have little impact on accident rates.
Downing Street has announced it will cut the road safety budgets it gives to English and Welsh local authorities by 40% as part of its wider efforts to reduce public spending.