Ministers warned over 'heavy-handed' US tactics in Iraq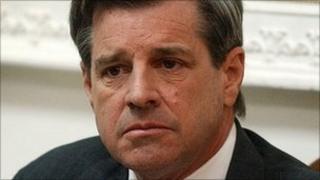 The UK's most senior official in Iraq told ministers that "heavy-handed" US military tactics made security worse in the year after the 2003 invasion.
In a de-classified letter released by the Iraq Inquiry, Sir David Richmond said the unpopularity of the coalition and failure to supply electricity was "visible signs" of lack of progress.
He told the Inquiry "things had started to go badly wrong" earlier in 2004.
But he insisted the UK had managed to alter US thinking in some areas.
In his evidence last week, former prime minister Tony Blair defended the UK's planning for post-war Iraq and said the country was de-stabilised by the large increase in suicide bombings and other terrorist attacks which began in late 2003 - the scale of which could not have been fully anticipated.
Anger and resentment
Sir David became the UK's Special Representative in Iraq - the leading civilian official - in 2004, having previously served as deputy to Sir Jeremy Greenstock in the role.
In a telegram to Downing Street and the Foreign Office in June 2004, Sir David raised his concerns about the deteriorating security situation in Iraq at a time when the Coalition Provisional Authority (CPA) - which had run Iraq since the March 2003 invasion - was handing over power to a provisional Iraqi government.
"What might have been an uneasy acquiescence was too often turned into anger and resentment by military tactics which were heavy-handed and disdainful of the Iraqis," he wrote.
The presence of foreign troops in Iraq was "always going to be a magnet for Islamic extremists", he wrote.
But he added: "The growing unpopularity of the occupation and coalition, the problems over security and the failure to sort out the electricity supply are the most visible signs that we have fallen short of what we had hoped to achieve. It is hard to escape the conclusion that CPA policies and US military tactics made the situation worse."
Falluja concerns
Giving evidence in to the Iraq inquiry person, Sir David was asked about his relationship with Ambassador Paul Bremer, head of the CPA, and what input the UK had into decision-making in the year after the invasion.
He said it was "absolutely clear" Mr Bremer made the final decisions but UK officials had "constant access" to him.
"I was always able to put the UK point of view," he said. "He always listened to that point of view. He didn't always react to it. He often did not react, either negatively or positively. That was just his style."
Asked for examples where the UK helped change the direction of coalition policy, he said he strongly expressed his concerns about the US siege of Falluja in 2004.
"It was clear to me that this had to stop. I spoke to Bremer and made clear what my views were about that. Ultimately Bremer came down on the same side as me and told the US military they have to re-think their policy."
Sir David said the UK had planned for a "best-case" scenario - in terms of security - in post-war Iraq and had made the same presumption again when it deployed troops to southern Afghanistan in 2006.
"You can't always plan for "worst case" because you would probably never do anything at all on that basis but you have to do more than just plan for "best case"," he said.
"We have to ask what we are doing wrong that leads to that very difficult situation."