Ministers must sell wine cellar, says Labour MP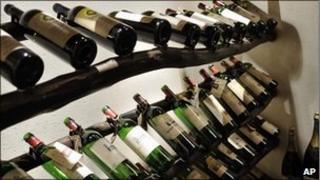 The government should sell the most expensive wines in its cellars to help "make ends meet", a Labour MP has said.
Official documents show the collection includes a Chateau Petrus 1978, estimated to be worth £2,500 a bottle, and a Chateau Latour 1955, with a value of around £1,000.
A Cognac from 1878, described as "superlative", is also on the list.
Labour's Tom Watson said a sale would demonstrate that ministers and the public were "all in this together".
The wines are used for official functions such as state dinners and receptions.
'Some austerity'
The Government Hospitality Stock Report, published by the Foreign Office, describes the Chateau Latour as "spectacular" and "the essence of wonderful claret... Fresh and lovely".
A bottle of Chateau Palmer 1975, prices of which start at £120, is said to be a "really old-fashioned style claret, rich and excellent with some austerity", while a Chateau Margaux 1961 was described apparently by one unnamed prime minister as "silky".
Champagnes include magnums of Krug 1982, said to be "still delicious and fresh", and Louis Roederer Brut from 1990.
Mr Watson, a former minister who represents West Bromwich East, said holding such stocks was wrong when the UK was running a substantial budget deficit.
He said: "They should sell the good stuff to make ends meet. As the economy heads back into recession nobody will serious believe that we are all in this together when ministers are quaffing wines at £200 a bottle."
Last June the government revealed its cellar held 25,883 bottles of red wine, 6,828 bottles of white, 1,779 bottles of champagne and 2,975 bottles of fortified wine.
Four-fifths of stock was French, 7% from Portugal, 2% from English and Wales, 2% from Germany, 1% from Australia, 1% from Italy and 1% from the US.
"Small quantities" of Spanish, Austrian, Argentinean, Chilean, South African and New Zealand wines were also held.